Apple Card Savings Account Likely Launching on April 17
Apple Card Savings will likely be available starting Monday, April 17, according to backend code on Apple's servers uncovered by @aaronp613. The code also suggests that an iPhone with iOS 16.3 or later will be required to use the feature.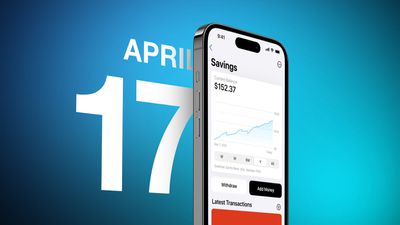 Apple Card users will be able to open a high-yield savings account from Goldman Sachs in the Wallet app on their iPhone and start earning interest on their Daily Cash balance. Apple has yet to reveal what the account's interest rate will be, but Goldman Sachs' existing Marcus high-yield savings account currently has a 3.75% APY.
In addition to Daily Cash, users will be able to deposit their own funds into the savings account through a linked bank account, or from their Apple Cash balance. Users will be able to withdraw funds to a linked bank account at any time, with no fees.
To open a savings account in the Wallet app, users will tap on the Apple Card, tap on the circle with three dots at the top of the screen, tap Daily Cash, and select Set Up Savings. Once the account is set up, all Daily Cash received from that point on will be automatically deposited into it and start earning interest. If they prefer, users will still be able to have Daily Cash added to their Apple Cash balance instead at any time.
After re-examining the backend code, it seems like Apple Card Savings Accounts may go live on April 17 Additionally, it seems like the customized Chinese Apple Pay transit cards may go live on April 18 https://t.co/ljJxjqaIFy — Aaron (@aaronp613) April 13, 2023
Apple Card provides 2% to 3% Daily Cash on purchases made with Apple Pay and 1% on purchases made with the physical card. Apple's credit card remains available in the U.S. only, meaning this savings account feature will only be available there.
Apple first announced the savings account in October and said it would be available in the coming months. It's likely that Apple Card Savings has faced delays, as the feature was initially listed in the iOS 16.1 Release Candidate notes, but it did not end up launching with that update and is still not available six months after being announced.
Apple has gradually expanded into financial services over the past few years. The launch of Apple Card Savings would follow last month's limited rollout of Apple Pay Later, a "buy now, pay later" service for financing purchases made with Apple Pay.