Apple Pay Later Available on Limited Basis Starting Today, Launching Widely in Coming Months
Apple today announced that it will begin inviting "randomly selected users" to use a prerelease version of Apple Pay Later via the Wallet app and an email sent to their Apple ID. Apple Pay Later is available in the U.S. and requires iOS 16.4 and iPadOS 16.4.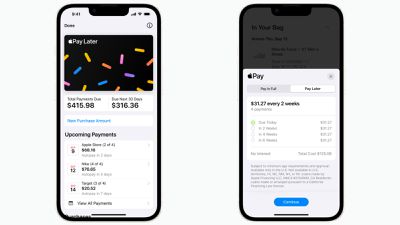 Apple Pay Later will be expanded to all eligible iPhone users over the age of 18 in the U.S. in the "coming months," according to Apple.
Announced at WWDC 2022 last June, Apple Pay Later is a "buy now, pay later" financing option that lets qualifying customers in the U.S. split a purchase made with Apple Pay into four equal payments over six weeks, with no interest or fees to pay. Users can apply for Apple Pay Later loans of $50 to $1,000 to be used towards online and in-app purchases made with Apple Pay on the iPhone and iPad, according to Apple.
iPhone users can apply for a loan in the Wallet app with no impact to their credit. After entering the amount they would like to borrow and agreeing to the Apple Pay Later terms, a soft credit check will be initiated during the application process. After a user is approved, Apple Pay Later will be available as an option when using Apple Pay.
Apple Pay Later is built into the Wallet app on the iPhone, allowing users to view, track, and manage loans in one place. Users can view upcoming payments on a calendar and choose to receive upcoming payment notifications via the Wallet app and email. Users must link a debit card as their loan repayment method, with credit cards not accepted.
Apple Pay Later credit assessment and lending is handled by Apple Financing LLC, a subsidiary of Apple. The service is based on the Mastercard Installments program, so merchants that accept Apple Pay do not need to do anything to implement it.
Apple's corporate and retail employees were already able to use Apple Pay Later prior to today's announcement, as part of early testing.
Apple has shared a support document with additional details about Pay Later.