Simplified iOS 16.4 Beta Installation Method Expands to Latest macOS Ventura 13.4 and watchOS 9.5 Betas
With the launch of iOS 16.4, Apple introduced a new beta installation method for those who are enrolled in Apple's Developer Program or who use the public beta testing option.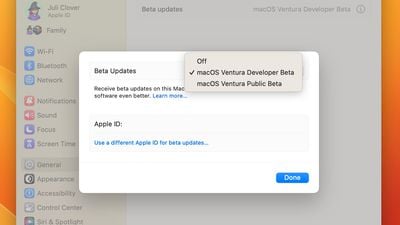 The changes were exclusive to iOS 16.4 and iPadOS 16.4, but now Apple is expanding them to macOS and watchOS with the macOS 13.4 and watchOS 9.5 betas that were released to developers today. Developers and public beta testers enrolled in Apple's respective programs can toggle on beta updates directly from System Settings on the Mac, and the Software Update section in the Watch app on iPhone.


Apple's new beta installation method replaces the profiles that have previously been used for installing both developer and public watchOS and macOS updates. On the developer side, enabling betas now requires an Apple ID enrolled in the Apple Developer Program.
Using a developer profile without an associated developer account is no longer a possibility, so only registered developers will be able to get access to the developer beta going forward. The same goes for the public betas, though access to the public beta program is free and open to anyone, unlike the developer program, which costs $99 per year.
For minor beta updates, the changes won't have a big impact, but when iOS 17, iPadOS 17, watchOS 10, and macOS 14 are announced, the ‌Apple ID‌ requirement will prevent those who do not have a developer account from being able to install the developer betas. In past years, non-developers have been able to use shared developer profiles to get early access to new software.