Leaked Apple Mixed Reality Headset Parts Outline Goggle Enclosure in More Detail
With Apple's rumored mixed reality headset potentially being unveiled on June 5 during Tim Cook's opening WWDC keynote address, established leaker Sonny Dickson has shared clearer images on Twitter of the only leaked components we have seen for the device thus far.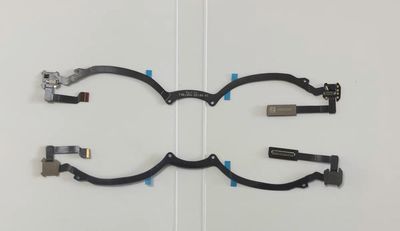 The high-resolution pictures provide close-ups of ribbon cables shaped in such a way as to resemble a goggles enclosure that surrounds the eyes, indicating that they are used to connect display components on a surrounding circuit board.
The images were previously leaked by a Twitter user with a track record for sharing accurate information about Apple components, but in the original images the part numbers were blurred out. In contrast, Dickson's images show the numbers, which could potentially allow for other parts to be more easily identified and confirmed as legitimate if further leaked components emerge.
Rumors suggest the headset will have two to three displays. There will be two high-resolution 4K micro OLED displays with up to 3,000 pixels per inch, for an 8K total resolution. Sony is expected to supply the display modules that Apple will use, though Apple may also use some OLED displays from Samsung.
Micro OLED displays are said to be built directly on to chip wafers rather than a glass substrate, which results in displays that are thinner, smaller, and more power efficient.


Meanwhile an outward-facing display will allegedly be able to show the facial expressions of the headset's wearer to the people around them, to cut down on the sense of isolation felt when using the device. The display will have an ultra-low refresh rate and reduced power consumption to keep it from draining battery.
Apple reportedly showcased the mixed-reality headset to the company's top 100 executives in the Steve Jobs Theater last week. Apple is expected to launch the headset later in the year, sometime after its debut at WWDC. Mass production of the headset is already underway, but some Apple employees are said to be concerned about the usefulness and price point of the headset, according to one report.