ESR Debuts MagSafe-Compatible HaloLock Geo Wallet Stand With Find My Support
Accessory company ESR is launching a new crowdfunding campaign today for what it says is the first MagSafe-compatible wallet accessory for iPhones with full Find My support, the HaloLock Geo Wallet Stand. I've been testing out an early review unit for a couple of weeks now, and I've found it to be a handy accessory while on the go.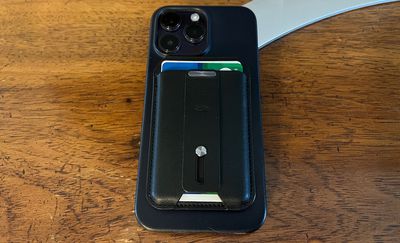 While Apple offers a first-party MagSafe wallet with ‌Find My‌ support, the accessory does not include any location tracking of its own with the ‌Find My‌ app only able to determine the location where the wallet was last detached from your phone.
ESR's new wallet accessory goes a significant step further by including full ‌Find My‌ support, enabling much more useful location tracking thanks to an onboard module that can leverage the hundreds of millions of Apple devices out in the wild to report its location. An onboard speaker can also help you audibly locate a misplaced wallet within relatively close range.
As a wallet, the Geo Wallet Stand is capable of holding around three physical cards whether they be driver's licenses, credit/debit cards, membership cards, or other similarly sized cards.
With the onboard ‌Find My‌ module, the Geo Wallet Stand obviously requires a power source, and ESR says its rechargeable battery should last about three months. Charging is accomplished using an included 0.5-meter USB-C cable that terminates in a magnetic three pogo-pin connector that snaps onto charging contacts on the wallet.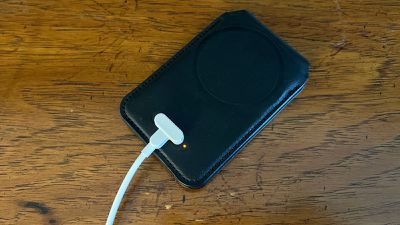 ESR says it takes about 90 minutes for a full recharge, and a small status light next to the charging contacts shines orange while charging and green once fully charged. There is also a power button that lets you turn the unit off, but of course it won't be able to be tracked while powered off.
I haven't had my review unit long enough to fully test the battery life and charging time estimates, but after several weeks of use the rough battery status displayed in the ‌Find My‌ app still shows as full.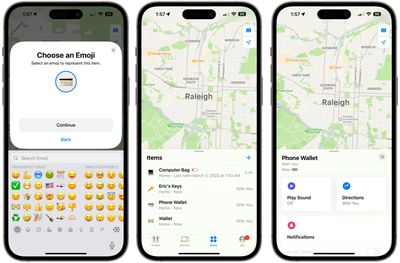 Setup takes place in the ‌Find My‌ app just like any other supported accessory, with a long press on the wallet's button putting it into pairing mode. Once you walk through the setup process in the app to give the wallet a name and emoji icon, it shows up on the Devices tab of the ‌Find My‌ app just like AirTags and other Find My-compatible accessories.
As you might guess from its name, the Geo Wallet Stand has another trick up its sleeve, and that's its ability to function as a phone stand in either portrait or landscape mode. The wallet is constructed of two flaps with a hinge at the top connecting the card-holding half to the ‌MagSafe‌ and ‌Find My‌ half, allowing the card portion to swing out and act as a kickstand.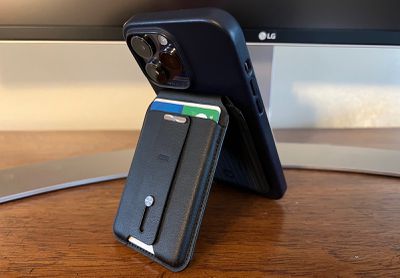 There's enough tension in the hinge that you can set it at a range of angles from 15º to 170º for optimal viewing in virtually any setting.
The two-part design certainly makes the Geo Wallet Stand thicker than Apple's ‌MagSafe‌ wallet, but I don't find it too thick or heavy for my liking, though that's of course a subjective assessment. The full ‌Find My‌ support in the wallet unavoidably adds some weight and bulk compared to Apple's accessory, and ESR's hinged design is a clever way to wring some extra functionality out of it.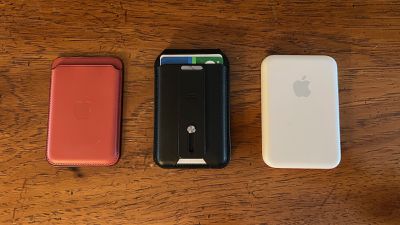 Still, there's no getting around the fact the the Geo Wallet Stand is more than twice as thick and nearly three times as heavy as Apple's ‌MagSafe‌ wallet. I've used various magnetic batteries and battery cases on my iPhones from time to time over the years, so an extra hump on the back of my phone isn't a deal-breaker for me, and the Geo Wallet Stand feels similar in bulk to something like Apple's MagSafe Battery Pack.
I weighed the Geo Wallet Stand at 84 grams empty and 107 grams with a driver's license, a regular credit card, and a hefty Apple Card onboard. That compares very closely to Apple's ‌MagSafe Battery Pack‌ at 113 grams and it has a similar thickness. Both are of course substantially thicker and heavier than Apple's ‌MagSafe‌ Wallet, which weighs just 32 grams empty.



The extra weight and bulk doesn't really bother me considering the functionality the wallet offers, but if a slim feel in the hand is a priority for you or you're going to be taking it in and out of a pocket in skinny jeans on a regular basis, it's definitely something to be aware of.
Of course, there's little reason to keep the wallet attached to your phone at all times unless you're really interested in using the stand functionality around the house, so outside of my extra review testing I only slap the wallet on my phone when I'm headed out of the house.
For a little bit of extra security, the card slot section includes a finger loop on the back if you like to hold your phone that way. That's not my preferred way to hold my phone, but the loop sits fairly flush with the wallet when not in use so I don't find it bothersome.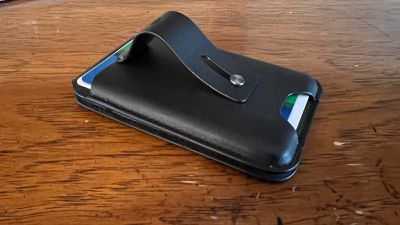 ESR says the Geo Wallet Stand's magnetic holding force is more than twice that of Apple's official ‌MagSafe‌ standard, which helps ensure that it stays attached however it's being used. I can definitely tell the difference in strength compared to Apple's ‌MagSafe‌ accessories like the wallet and the battery pack, and I have no concerns about ESR's wallet coming detached accidentally.
One of my complaints about Apple's ‌MagSafe‌ wallet is that cards typically sit deep enough in the card slot that you can't get a grip on the edge of one to easily pull it out. Apple intends for users to remove the wallet from their phone and use an opening on the back of the wallet to push the cards out when needed. While this helps keep cards secure in the wallet, I find the inconvenience outweighs the benefit, and even then cards can feel quite loose in the slot if you're only carrying a single card.
The Geo Wallet Stand's slot holds cards more tightly with what ESR calls a "dynamic tension spring" down inside the card slot. It provides a little extra stability regardless of how many cards are inserted, and I don't have much concern about them falling out. A small cutout at the bottom of the slot makes it easy to push the cards up to access them without having to remove the wallet from your phone, which I find to be a much better design than Apple's.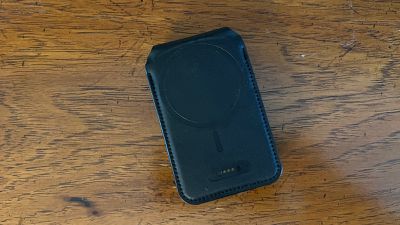 The ESR HaloLock Geo Wallet Stand is being offered in two colors, midnight black and caramel brown, and the crowdfunding campaign is live now with worldwide shipping available. The regular price for the Geo Wallet Stand will be $39, but ESR is offering a variety of limited-quantity discounted offers starting at around $27.
ESR says that relevant certifications and quality testing for the wallet stand have been completed, and the review unit I've been testing certainly looks and feels like a completed product, so ESR appears to be in a good position to meet its shipping estimate of May once the Kickstarter campaign wraps up late next month.
Note: ESR provided the HaloLock Geo Wallet Stand to MacRumors for hands-on impressions, and no other compensation was received. MacRumors is an affiliate partner with Kickstarter/ESR. When you click a link and make a purchase, we may receive a small payment, which helps us keep the site running.