Apple Releases Over 20 New Apple Watch Bands and AirTag Accessories, Including New Hermès 'Casaque' Line
Alongside the Yellow iPhone 14 and iPhone 14 Plus and new selection of Silicone Cases, Apple today released 19 new Apple Watch bands offering a range of fresh color options, including a new "Casaque" line for Apple Watch Hermès.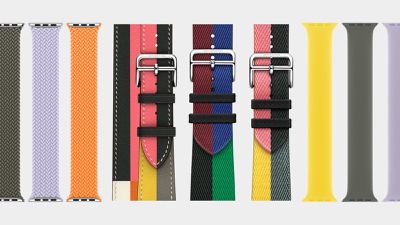 The new Apple Watch band colors are as follows, with slightly different new options available depending on the type of band:
Solo Loop
Sprout Green
Canary Yellow
Olive
Purple Fog
Sport Band
Braided Solo Loop
Bright Orange
Purple Fog
Olive
Apple's collaboration with French fashion brand Hermès for high-end Apple Watch bands and AirTag accessories was also refreshed today, introducing a new "Hermès Casaque" line, featuring three patterened Apple Watch bands made of nylon or leather:
Inspired by the bold jerseys worn by horse jockeys, these bands strike the perfect balance between sophistication and sportiness.
Nine new Apple Watch Hermès bands join the lineup:
Hermès Casaque
Orange/Blanc Swift Leather Casaque Double Tour
Rouge H/Bleu Saphir Casaque Single Tour
Rose Azalée/Noir Casaque Single Tour
Hermès Swift Leather (Single Tour and Attelage Double Tour)
The AirTag Hermès Bag Charm is also now available in Bambou and Rose Azalée, while the AirTag Hermès Key Ring is available in Bambou, Rose Azalée, Montagne, and Voiture.