Samsung to Debut First OLED Laptop Display With Integrated Touch Sensors Next Week
Samsung says it is set to begin mass producing OLED laptop displays that integrate touch sensors directly into the panel, with the technology expected to make a debut in new Galaxy Book models next week (via ZDNet).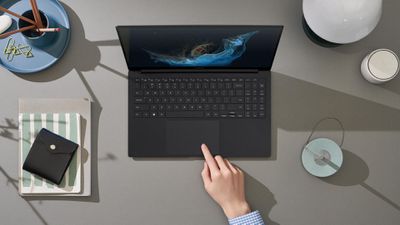 The panels use OCTA, or on-cell touch AMOLED technology, to achieve the feat, which allows them to be thinner than solutions that use a separate touchscreen panel film. Samsung claims that it is the world's first laptop OLED panel with an integrated touchscreen.
Previously only used in smartphones like the Galaxy S series and Apple's iPhones, the panels are expected to come in 13-inch and 16-inch sizes, and are capable of supporting 3K resolution and up to 120Hz refresh rates.
The Korean company did not say which laptop would debut the technology, but it is expected to unveil updated Galaxy Book laptops with OLED touchscreens at its Unpacked media on February 3. Samsung also plans to mass produce the OLED touchscreen panels for other laptop brands and partners as more makers transition to them.
Samsung has been supplying Apple with OLED displays for high-end iPhone models since 2017, and its latest announcement comes on the back of recent rumors that Apple is planning to launch its first MacBook with an OLED display in the next couple of years, potentially followed by an OLED touchscreen MacBook. Samsung is also said to be prioritizing the development of specific types of OLED displays that Apple plans to use in upcoming iPad Pro models.
According to analyst Ming-Chi Kuo, Apple could release the first OLED MacBook as early as next year. Kuo did not specify whether the OLED MacBook would be a Pro or Air model, but last month display industry analyst Ross Young said Apple plans to introduce a new 13-inch MacBook Air with an OLED display in 2024.
All existing MacBooks have LCD panels, with the latest 14-inch and 16-inch MacBook Pro featuring mini-LED backlighting and ProMotion. Unlike LCDs with mini-LEDs, OLED displays have self-emitting pixels and do not require backlighting, which would give MacBooks even better contrast ratio and allow for longer battery life.
According to Bloomberg's Mark Gurman, Apple is also working on adding touchscreens to Macs, beginning with a MacBook Pro with an OLED display in 2025. The first MacBook Pro with a touchscreen would retain a traditional laptop design with a trackpad and a keyboard, but the display would gain support for touch input like an iPhone or iPad.
For years now, Apple has maintained that adding touchscreen technology to laptops results in a poor user experience ergonomically, so if Apple does go ahead with the plans it would be a major reversal for the company. The launch of a touchscreen OLED MacBook could arguably help consolidate Apple's Mac sales, which have been particularly strong since the transition to Apple silicon, but face a challenging couple of years ahead as demand for consumer electronics drops amid the global economic downturn.