Apple's Market Valuation Drops Below $2 Trillion as Stock Price Continues to Fall
Apple shares are down around 4% today, resulting in the company's valuation falling below $2 trillion for the first time since 2021. Apple's stock is at its lowest price since June 2021 as concerns mount about iPhone supply constraints in China and weakening demand for its products due to persistently high inflation and a looming recession.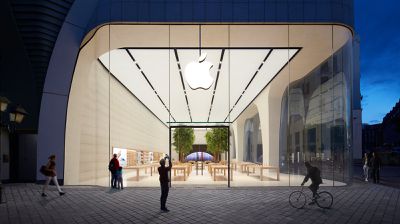 While the stock market has experienced a broader downturn, the Financial Times today reported that Apple has fared better than some of its peers, losing 27% of its value in the past 12 months, versus a 33% loss for the tech-heavy Nasdaq Composite as a whole. Apple has reported 14 consecutive quarters of growth, but the company is estimated to report around a 1% drop in revenue in the fourth quarter of 2022.
Apple's manufacturing partner Foxconn has faced iPhone production constraints due to COVID-19-related workplace protests and labor shortages over the past few months, leading to shipping delays for the iPhone 14 Pro and iPhone 14 Pro Max. However, Foxconn said that its main iPhone factory in Zhengzhou, China was operating at 90% of its peak capacity as of December 30, indicating that the situation is improving.
Nikkei Asia on Monday reported that Apple notified several suppliers to build fewer components for AirPods, the Apple Watch, and MacBooks in the first quarter of 2023 due to weakening demand. Shipments of all of those products and the iPhone are set to decline on a year-over-year basis in 2023, according to research this week from Jeff Pu, an analyst at Hong Kong investment firm Haitong International Securities.
Apple briefly became a $3 trillion company in January 2022 after the COVID-19 pandemic fueled strong demand for its products in 2020 and 2021. Apple products were in high demand as more people worked, learned, and connected with others from home.
AAPL was trading at around $124.26 as of writing.