Epic Games CEO Tim Sweeney Teases Fortnite Returning to iOS in 2023 as Legal Battle Continues
Epic Games CEO Tim Sweeney has teased a return of Fortnite to iOS in 2023, nearly three years after the best-selling game was removed from the App Store for violating platform rules, marking the start of a contentious and high-profile legal battle.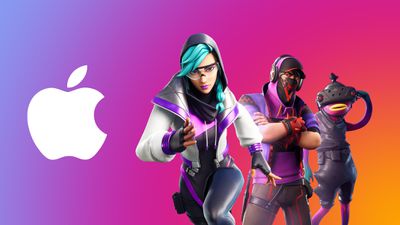 In a tweet to celebrate the new year, Sweeney said, "Next year on iOS!" followed by an image of a Fortnite character looking up at fireworks that spell out 2023. Apple is reportedly planning to allow sideloading and alternative app stores with iOS 17 next year, in order to comply with the newly passed DMA (Digital Markets Act) law in Europe. Under the law and its implementations, ‌Epic Games‌ could, in theory, bring Fortnite back to iOS, just not through the ‌App Store‌.
Fortnite was removed from the ‌App Store‌ in August 2020 after ‌Epic Games‌ included a direct payment option in the game that circumvented Apple's in-app purchasing system, violating ‌App Store‌ rules. Apple ultimately removed Fortnite from the App Store, placing the blame directly on Epic for violating its rules. A statement from Apple at the time:

Today, Epic Games took the unfortunate step of violating the App Store guidelines that are applied equally to every developer and designed to keep the store safe for our users. As a result their Fortnite app has been removed from the store. Epic enabled a feature in its app which was not reviewed or approved by Apple, and they did so with the express intent of violating the App Store guidelines regarding in-app payments that apply to every developer who sells digital goods or services.

Epic has had apps on the App Store for a decade, and have benefited from the App Store ecosystem - including its tools, testing, and distribution that Apple provides to all developers. Epic agreed to the App Store terms and guidelines freely and we're glad they've built such a successful business on the App Store. The fact that their business interests now lead them to push for a special arrangement does not change the fact that these guidelines create a level playing field for all developers and make the store safe for all users. We will make every effort to work with Epic to resolve these violations so they can return Fortnite to the App Store.
The removal of Fortnite from the ‌App Store‌ caused ‌Epic Games‌ to file a lawsuit against the Cupertino tech giant. "We're fighting for open platforms and policy changes equally benefiting all developers. And it'll be a hell of a fight!" Sweeney said at the time.
Three years later, both ‌Epic Games‌ and Apple are now appealing a court decision made in September 2021 that would have required Apple to allow developers to add in-app links to outside websites, paving the way for alternate payment options that do not require developers to use the in-app purchase system.
‌Epic Games‌ claims Apple's control over iOS and the ‌App Store‌ is anti-competitive and that alternative app stores should be allowed on the iPhone. Apple, on the other hand, believes the ‌App Store‌ remains the safest and most trusted way for developers to target users and users to explore apps. Sweeney has previously called the ‌App Store‌ a "disservice to developers."
For a full roundup of events and the latest developments of the high-profile case, see our guide.