Fortnite Introduces Direct Payment Option on iOS Despite Apple's App Store Review Guidelines [Updated]
Epic Games today announced that it has introduced a new direct payment option in the Fortnite app for iPhone and iPad, allowing players to purchase 1000 V-Bucks for $7.99 rather than $9.99 through Apple's in-app purchase mechanism.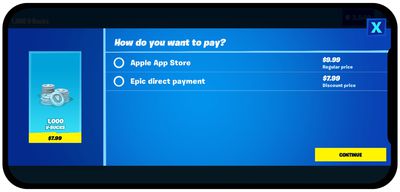 It is unclear how Epic Games is managing to offer this option, as Apple's App Store Review Guidelines indicate that apps offering in-game currencies must use Apple's in-app purchase mechanism. Apps are also not allowed to include buttons, links, or other calls to action that direct customers to purchasing mechanisms other than in-app purchase:
3.1.1 In-App Purchase:
- If you want to unlock features or functionality within your app, (by way of example: subscriptions, in-game currencies, game levels, access to premium content, or unlocking a full version), you must use in-app purchase. Apps may not use their own mechanisms to unlock content or functionality, such as license keys, augmented reality markers, QR codes, etc. Apps and their metadata may not include buttons, external links, or other calls to action that direct customers to purchasing mechanisms other than in-app purchase.
The direct payment option is available in the United States, Canada, Australia, France, Germany, Spain, the United Kingdom, and many other countries.
In a FAQ, Epic Games described Apple's and Google's 30 percent commission on in-app purchases as "exorbitant," leading it to introduce this alternate payment system so that it can offer the same permanent discount of up to 20 percent on V-Bucks that it is now offering to players on the PlayStation 4, Xbox One, Nintendo Switch, Mac, and PC.
Epic Games notes that apps that offer real-life goods and services like Uber and StubHub are not required to use Apple's in-app purchase mechanism, and it believes that Fortnite is entitled to receive this same treatment:
Thousands of apps on the App Store approved by Apple accept direct payments, including commonly used apps like Amazon, Grubhub, Nike SNKRS, Best Buy, DoorDash, Fandango, McDonalds, Uber, Lyft, and StubHub. We think all developers should be free to support direct payments in all apps. In operating Fortnite on open platforms and operating the Epic Games Store, Epic has processed over $1,600,000,000 of direct payments successfully, and uses industry trusted encryption and security measures to protect customer transactions.

Clearly Apple and Google acknowledge that third party payment services are safe and acceptable for goods and services. Epic direct payment simply offers players the same kinds of payment options as these other apps.
The move will certainly add fuel to the fire as the App Store faces anti-trust scrutiny in both the United States and Europe.
Update: Fortnite is no longer available on the App Store as of Thursday afternoon.