Apple Announces iOS 15: First Look at New Features
Apple today previewed iOS 15, the company's next major update for the iPhone, featuring new video calling capabilities, improvements to Messages, user statuses, a smart notification summary, and more.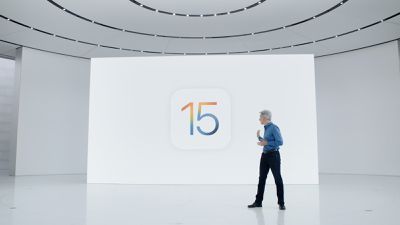 FaceTime
In iOS 15, FaceTime features a new grid view and portrait mode support for video. For audio, FaceTime calls now offer Spatial Audio so that voices sound as if they are coming from where the person is located on screen, and adaptive voice isolation for a more natural experience.
In addition, users can now generate a shareable link to a scheduled video call, and can join ‌FaceTime‌ calls through the browser on Android and Windows devices.
"SharePlay" in ‌FaceTime‌ allows users to bring music, videos, and movies into calls in sync, as well as share screens. SharePlay works across ‌iPhone‌, iPad, and Mac, and with shared playback controls, anyone in a call can play, pause, or jump ahead. SharePlay is also available as an API to be integrated into third-party apps such as Disney+, HBO Max, and TikTok.

Notifications
Notifications in iOS 15 have been redesigned, adding contact photos for people and larger app icons. There is now a notification summary that presents notifications based on how users interact with their apps and priority.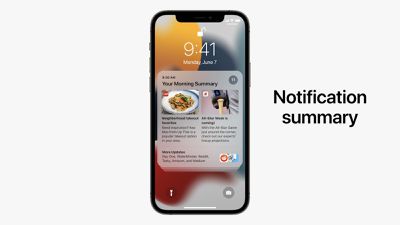 Focuses
iOS 15 offers new user statuses called a "Focus." A Focus filters notifications and apps based on what a user wishes to focus on. Users can create a custom Focus or select a suggested Focus. Users can also create Home Screen pages with apps and widgets that apply to moments of focus to display relevant apps only.
When a user's Focus or Do Not Disturb status blocks incoming notifications, their status is displayed to others in Messages.

Photos
Photos features "Live Text," allowing users to highlight and select text in images. Live Text also works in other apps such as Apple News.
In iOS 15, ‌Photos‌ will also be presented in Spotlight searches and Apple Music songs can be added to ‌Photos‌ memories. Memory mixes are synchronized with the video and images, and user-configurable with intelligently chosen songs from ‌Apple Music‌.

Wallet
iOS 15 brings additional types of keys to the Wallet app, including corporate badges, hotel room keys, and keys for home smart locks.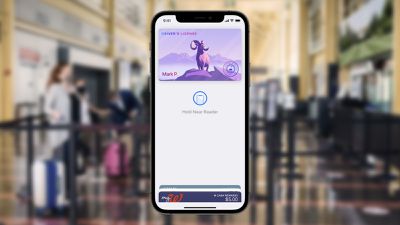 Wallet will also supports identity cards in the United States. Users simply scan their ID to add it to the Wallet app.

Weather
The Weather app now features a completely new design, a full-screen in-app map, and new background animations that reflect the sun's position. The new design changes based on conditions and notifications can highlight when rain or snow starts and stops.

Maps
Maps features a globe view and a much more detailed 3D view in cities, including a new night-time mode. There are new road details, such as turn lanes, medians, bike lanes, and pedestrian crosswalks, to assist drivers in cities.
There is now more information in the Transit view, and Maps now automatically follows you during a transit route and can alert you when to disembark, as well as offer more detailed directional information.
With iOS 15, users can hold up their ‌iPhone‌, and Maps will generate an accurate position to show detailed walking directions in augmented reality.

Safari
Safari features a completely new design with easier-to-reach controls. There is a new, compact tab bar that floats at the bottom of the screen so users can swipe between tabs. There are also tab groups to allow users to easily access them at any time across any device. Safari on the ‌iPhone‌ also supports extensions for the first time and a customizable start page.

Other Features
iOS 15 also features voice search in Safari, cross-app drag and drop, and new Memoji outfits. Messages features new ways to share content such as images, music, podcasts, ‌Apple News‌ articles, and more, as well as pinned content.
Spotlight can leverage web image search and enhanced search, and offers richer contact card, actor, musician, TV show, and movie results. The Notes app now features tags to categorize notes, and mentions and an activity history in shared notes.
The Health app has a new sharing tab that lets users share their health data with family or caregivers, and Trends can highlight meaningful changes in health metrics. Find My adds a new widget, support for live-streamed locations, and AirPods on the ‌Find My‌ network.
iOS 15 also brings more privacy to the ‌iPhone‌, including on-device Siri requests, Mail Privacy Protection, and an App Privacy Report.
iOS 15 will be available on all of the same devices as iOS 14, meaning that all iPhones from ‌iPhone‌ 6S and newer are supported.
The developer preview of iOS 15 is available to Apple Developer Program members starting today, and a public beta will be available to iOS users starting next month.