Apple Music Launches Top 25 Song Playlists for Over 100 Cities
As part of the suite of features in iOS and iPadOS 14.5, Apple has rolled out a brand new set of Apple Music playlists that lists the top 25 songs in more than 100 cities around the world.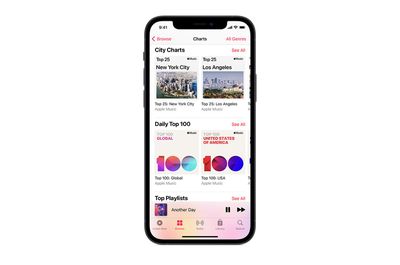 Reported by Billboard, the new collection of playlists ranks the top 25 most trending and hottest songs for over 100 cities around the world. The new collection can be found within the Browse section of the ‌Apple Music‌ app on iPhone, iPad, and Mac. Non-Apple Music subscribers can also browse the playlists using ‌Apple Music‌ on the web.
Apple says the playlists are updated daily with songs "making the waves" in cities worldwide. There are over 100 cities currently part of the collection, and Apple could add more with time. Courtesy of iMore's Stephen Warwick, the full list of cities currently part of the collection can be found below:

New York City
LA
Atlanta
Nashville
Miami
Chicago
Houston
San Juan
San Francisco
Seattle
Washington D.C.
Austin
Accra
Almaty
Auckland
Bangkok
Barcelona
Beijing
Bengaluru
Berlin
Birmingham (UK)
Bogotá
Bordeaux
Brisbane
Budapest
Buenos Aires
Busan
Calgary
Cape Town
Cologne
Copenhagen
Dallas
Delhi
Denver
Detroit
Dubai
Dublin
Durban
Edmonton
Frankfurt
Fukuoka
Glasgow
Guadalajara
Guangzhou
Guatemala City
Hamburg
Honolulu
Istanbul
Jakarta
Johannesburg
Kyiv
Kuala Lumpur
Lagos
Lima
Liverpool
London
Lyon
Madrid
Manchester
Manila
Marseille
Medellín
Melbourne
Mexico City
Milan
Monterrey
Montréal
Moscow
Munich
Nagoya
Naha
Nairobi
Naples
Osaka
Ottawa
Paris
Philadelphia
Phoenix
Prague
Québec City
Rio de Janeiro
Riyadh
Rome
Saint Petersburg
San Diego
San José
Santiago
Santo Domingo
Sao Paulo
Sapporo
Sendai
Seoul
Shanghai
Sydney
Taipei
Tel Aviv
Tokyo
Toronto
Vancouver
Vienna
Warsaw
Winnipeg
Zurich