One Year After Launch, Disney+ Has 73.7 Million Subscribers
It's been exactly one year since the Disney+ streaming service first launched, and over the course of the last 12 months, Disney+ has gained 73.7 million subscribers, surpassing expectations.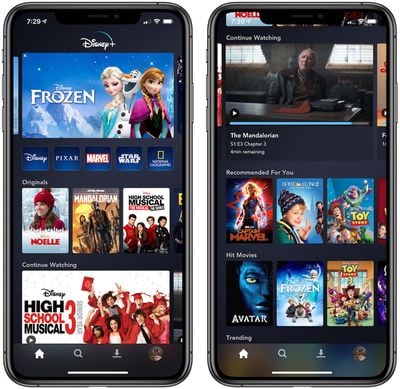 Disney announced the impressive subscriber numbers during its fourth quarter earnings results, which went out this afternoon.
"Even with the disruption caused by COVID-19, we've been able to effectively manage our businesses while also taking bold, deliberate steps to position our company for greater long-term growth," said Bob Chapek, Chief Executive Officer, The Walt Disney Company. "The real bright spot has been our direct-to-consumer business, which is key to the future of our company, and on this anniversary of the launch of Disney+ we're pleased to report that, as of the end of the fourth quarter, the service had more than 73 million paid subscribers - far surpassing our expectations in just its first year."
Disney+ last reported subscriber numbers in August, when the streaming service had 57.5 million subscribers. Based on those numbers, Disney+ has gained 16 million subscribers in the last three months alone.
At launch, Disney's goal was to hit 60 to 90 million subscribers by 2024, a target that the company has already met. Disney+ seems to have been more successful than Apple TV+, which launched right around the same time. Apple does not provide subscriber numbers for ‌Apple TV+‌ so there's no direct comparison to make, but if Apple's numbers were that high, it's likely company executives would have mentioned it.
When ‌Apple TV+‌ launched, Apple offered all customers who purchased a new device a free year of service, which is a deal that's still available now. Customers who took advantage of this promotion were originally meant to start paying in November, but Apple extended the free trial until the end of January.
‌Apple TV+‌ has not been able to compete with Disney+ because Disney has an established catalog of content along with popular Star Wars and Marvel content. Apple, meanwhile, has been working to build up new original TV shows and movies, but it still trails behind Disney.