App Recap: 'Usage' System Activity, 'Backdrops' Wallpapers, and Major App Updates
In this week's App Recap, we've highlighted two apps worth checking out. We've also compiled a list of apps that received major updates this week.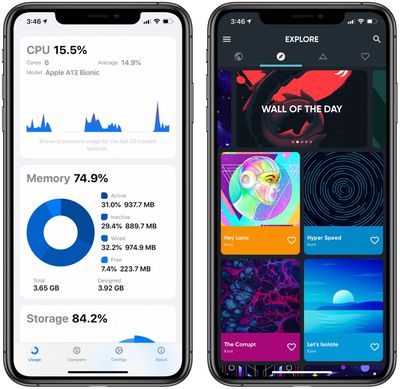 Apps to Check Out
Usage: System Activity & Info (iOS, Free) - Although not a particularly new app, Usage recently received a major update with version 3.0 in which the app was completely redesigned using SwiftUI. Complete with a sleek and modern design, Usage now features both an extended functionality with device and battery information and deeper, more detailed view of metrics.The app creates metrics based on network activity, connection speed, data usage, and more. Usage also allows users to customize the app to their own likings through six different color options, options to order the various metrics, and four customizable today widget options. Usage is free to download and features no ads, but users looking for the most functionality can purchase the app's compare feature for $1.99, which provides a detailed hardware breakdown of your device and allows you to compare it with any other iPhone. It is also worth pointing out that users can unlock the premium compare feature for one day by simply sharing the app!
Backdrops (iOS, Free) - Backdrops is a new wallpaper app that features original, high quality designs by the Backdrops team. The app features a wide variety of different wallpapers themes including abstract, scenery, geometric, dark AMOLED friendly, and more. Users can also upload and submit their own wallpapers to be featured in the Community tab. Although free to download, the app does feature a Backdrops Pro in-app purchase for $3.99 which removes ads and unlocks exclusive wallpaper collections. Backdrops also supports Sign in With Apple, so users who sign up for an account using an Apple ID have the option to mask their personal email address.
App Updates