App Recap: Cosmicast, Incognito, Pager, and Major App Updates
In this week's App Recap, we've compiled a list of several apps released recently that are worth checking out. We've also compiled a second list highlighting some apps that received major updates this week.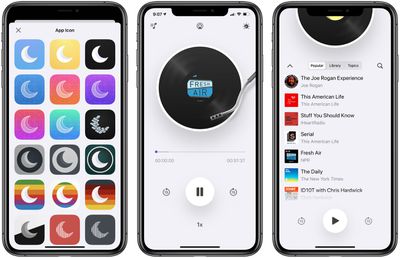 New Apps
Cosmicast ($7.99) - Cosmicast, a new semi-skeuomorphic podcast player available for Mac, iPhone, iPad, Apple TV, and Apple Watch, has a very simple and intuitive interface. As podcasts are playing, podcast artwork spins in the center of a digital vinyl record and easy speed and play/pause controls are conveniently located at the bottom of the screen. The app also features an adjustable sleep timer and chapter markers that makes using the app even easier. Users can also have the option to change the app's icon with tens of different choices. Cosmicast is one of the latest apps to take advantage of Apple's universal purchases feature, so buying the app once will allow you to have access to it across all of your devices.
Incognito - Private Browser (Free) - Incognito is a new browser built for ‌iPhone‌ and ‌iPad‌ with user privacy in mind. After each session, all cookies and web data are discarded. The app touts having no ads, no third-party trackers, and the ability to keep your web history and bookmarks locked with a passcode or disabled altogether. Although the app is free to download, it can only be used for 14 days under a free trial before users must pay a one-time fee of $1.99 to have lifetime access to the app.
Pager: Alerts for Reddit (Free) - Pager is an app available for both ‌iPhone‌ and ‌iPad‌ that allows to you create and set custom alerts for content on Reddit. The app allows users to create monitors that match post titles and usernames, so you can be notified when your favorite artist releases new music or be alerted when a news story is released within seconds.
App Updates