October is rapidly drawing to a close, and while time has run out for Apple to announce a media event for this month, there are still a number of known and rumored product launches in the works. This week saw fresh rumors about the so-called "AirPods Pro," the 16-inch MacBook Pro, and the Mac Pro.
Looking further ahead, we're continuing to hear about the "iPhone SE 2" for early next year, while this week also saw the 18th anniversary of the iPod's introduction.

Accessory Maker Releases 'AirPods Pro' Cases Matching Rumored Noise-Cancelling Design
While it looks unlikely that Apple will be hosting an October event this year, rumors suggest at least a few new products are still on the horizon, including the so-called "AirPods Pro."


MacRumors already discovered an icon of in-ear AirPods with rubber ear tips, lending credence to rumors that Apple is planning to release higher-end AirPods with active noise cancellation and improved water resistance, and last week a Chinese report claimed they will sport a new design and be released by the end of October, perhaps via press release.
At least one accessory maker is already capitalizing on the rumors with a few cases for the "AirPods Pro," with the product images depicting a wider charging case as previously leaked.

16-Inch MacBook Pro Said to Launch by End of October With Ultra-Slim Bezels and Scissor Keyboard
Last week, Apple effectively leaked the long-rumored 16-inch MacBook Pro itself by way of an icon discovered in the macOS Catalina 10.15.1 beta. The icon, created earlier this month, depicts a slightly larger MacBook Pro with slimmer bezels around the display.

15-inch MacBook Pro icon on left, possible 16-inch MacBook Pro icon on right
And now this week, hit-or-miss industry website DigiTimes has a fresh claim that the 16-inch MacBook Pro
will be released by the end of October
, noting that Quanta Computer has already begun volume shipments of the notebook to Apple. It won't be long before we know if this rumor will pan out.
New Mac Pro Nearing Release as Apple Advises Technicians How to Place Computer in DFU Mode
Apple previewed an all-new Mac Pro at WWDC in June, and said the computer will be available to order this fall, but it has yet to specify a release date.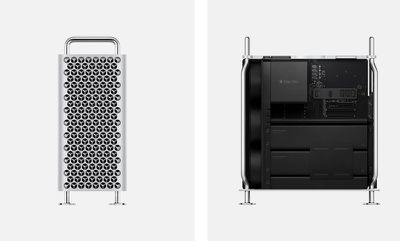 This week, however, Apple updated its Mac Configuration Utility for authorized technicians with an option for the new Mac Pro, and our source believes this likely signals an imminent release.
The new ‌Mac Pro‌ is a powerhouse, with up to 28-core Intel Xeon processors, up to 1.5TB of ECC RAM, and up to a 4TB SSD. A new design includes a stainless steel frame with smooth handles and an aluminum housing that lifts off for 360-degree access to the entire system. Pricing will start at $5,999.

Camera Comparison: iPhone 11 Pro Max vs. Pixel 4 XL
Both the iPhone 11 Pro Max and Google's Pixel 4 XL have high-end camera systems, so we decided to compare the camera quality of the two devices to see if one has an edge over the other.


Given how advanced smartphone cameras have become, the two devices both perform well, but there are some advantages to each that we discuss.
Subscribe to MacRumors on YouTube for new Apple-related videos every week!

iPhone SE 2 Rumors Continue to Mount as LG Reportedly in Talks to Supply LCDs for Device
Rumors are coming in fast and heavy about the so-called iPhone SE 2, with a report this week claiming that LG is in talks with Apple to supply LCD displays for the device, expected to launch in early 2020.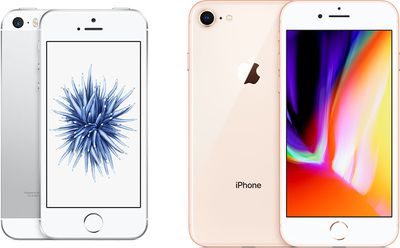 In a research note this week, Apple analyst Ming-Chi Kuo said the iPhone SE 2 will feature an upgraded antenna design for improved wireless transmission. Kuo previously said the device will resemble the iPhone 8, including a 4.7-inch display and Touch ID, but with a faster A13 Bionic chip and 3GB of RAM.
The budget device isn't necessarily going to be named the iPhone SE 2, especially given it sounds like it will be a larger device. Other names speculated include the iPhone 8s and iPhone 9.

iPod Turns 18: Here's What People Thought in 2001
This week marked the 18th anniversary of Steve Jobs unveiling the original iPod. While the iMac started Apple's renaissance in 1998, it was the launch of the iPod in 2001 that truly set Apple on a path towards becoming the world's most valuable company.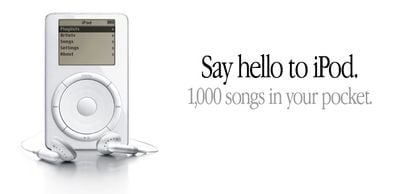 While many people were thrilled about the iPod, others were not so impressed. We've rounded up a sample of some comments about the iPod from the MacRumors forums, The New York Times, and elsewhere on the day the device was announced.

MacRumors Newsletter
Each week, we publish an email newsletter like this highlighting the top Apple stories, making it a great way to get a bite-sized recap of the week hitting all of the major topics we've covered and tying together related stories for a big-picture view.
So if you want to have top stories like the above recap delivered to your email inbox each week, subscribe to our newsletter!