Apple Relaunches 'Texas Hold'Em' Game to Celebrate 10th Anniversary of App Store
In a surprise move tied to the App Store's 10th anniversary last year, Apple has revived its classic "Texas Hold'Em" game for iPhone.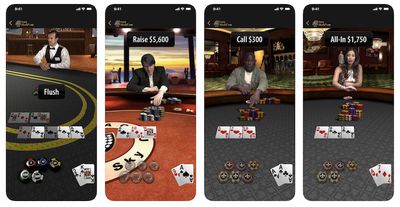 As noted by 9to5Mac, version 2.0 of the game was released on the ‌App Store‌ today. Apple says it has completely redesigned, rebuilt, and re-rendered the game to use high-resolution graphics, as well as added new characters, more challenging gameplay, and many other new features.
Apple's release notes:
Apple's Texas Hold'em is back! To celebrate the 10 year anniversary of the App Store, we've brought back one of its first games, a popular classic. Originally created for iPod, then brought to iPhone, fans will love the polished redesign, featuring new characters, more challenging gameplay, and stunning graphics for the newest iPhone and iPod touch.
Texas Hold'Em is a variation of poker. In the game, players bet and bluff as they attempt to advance through 10 distinctive locations, including Las Vegas, Paris, and Macau. The new version is entirely free-to-play with multiplayer support for up to eight players via Wi-Fi or offline playback against 24 computerized opponents.
The new version requires a device running iOS 12 or later and is optimized for the latest iPhone and iPod touch models.
Texas Hold'Em first debuted on the iPod in September 2006 before launching on the ‌iPhone‌ when the ‌App Store‌ launched on July 11, 2008. The game was pulled from the App Store in November 2011, leaving Apple without its own ‌iPhone‌ game until it released "Warren Buffett's Paper Wizard" in May.
Texas Hold'Em is available now on the App Store.