Apple Expected to Lease 'Massive' Office in Seattle With Space for Up to 4,200 Employees
Apple plans to lease a large office complex in Seattle's booming South Lake Union neighborhood, near Amazon, according to multiple commercial real estate sources cited by the Puget Sound Business Journal.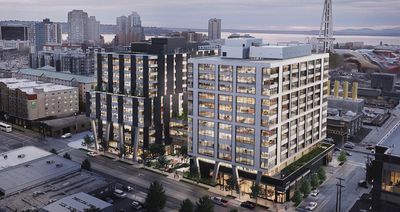 333 Dexter
The report claims the
two-tower development at 333 Dexter Avenue
would give Apple around 630,000 square feet of office space, enough for 4,200 employees using the industry standard of 150 square feet per employee. It is unclear whether Apple has signed the lease yet or if negotiations are still ongoing.
In late 2018, Apple announced plans to establish a new site in Seattle, and it may have been alluding to this office. Apple also plans to expand its Seattle workforce to more than 1,000 employees by 2021, perhaps explaining why data-crunching website Thinknum is seeing an uptick in Siri job openings at the company.
Apple has been steadily growing its presence in Seattle over the past five years. In 2017, Apple confirmed that its Seattle engineering hub is focused on artificial intelligence and machine learning, technologies that power the likes of Siri and advanced facial recognition on the iPhone X and newer.
Last year, Apple reportedly expanded its office space at Two Union Square, a 56-story tower in Downtown Seattle.
Apple's artificial intelligence efforts are led by former Google executive John Giannandrea.