Apple-Designed iPhone Modems Could Take Until 2025, Intel Confirms Interest in Its Modem Business
The Information has published a lengthy look into Apple's seemingly deteriorating relationship with Intel in terms of iPhone modems, leading to Apple's rekindled relationship with rival chipmaker Qualcomm last month.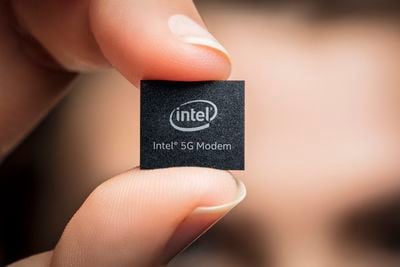 The report claims that Apple's frustrations with Intel's modem efforts began much earlier than some previous reports had indicated, and involved struggles with modems for the ‌iPhone‌ XS, ‌iPhone‌ XS Max, and ‌iPhone‌ XR, not just 5G smartphone modem development that Intel abandoned last month.
It was early 2017 and Apple was preparing a new line of iPhones to be released the next year, but the Intel modem for the devices, known as the 7560, wasn't working properly, according to two people with knowledge of the relationship. […] Intel had already overhauled the modem four times to bring it up to par with the latest Qualcomm modem. But missed deadlines and continuing technical issues with the chip were making Apple executives anxious, said one of the people.

"This would have never happened at Apple under my watch," Mr. Srouji barked at his Intel counterpart, Venkata "Murthy" Renduchintala, during a meeting on Apple's campus, according to the person, who was present at the meeting.
The size and structure of Intel's mobile division made it difficult to efficiently engineer modems, with teams struggling to work together, according to multiple current and former Intel employees and industry partners cited in the report.
In a statement provided to The Information, Intel also confirmed interest in its modem business from many companies, reportedly including Apple:
We have world-class 5G modem technology that very few companies have the IP and expertise to deliver. That's why many companies have expressed interest in acquiring our cellular modem assets since our recent announcement that we are assessing our options to realize the value we have created.
While it appears that Apple and Qualcomm's multi-year licensing and chipset supply agreement will result in Qualcomm supplying modems for the first 5G-enabled iPhones, expected to launch in 2020, multiple reports have indicated that Apple is on the path to developing its own cellular modems.
According to The Information, however, those in-house efforts appear to be farther away than initially thought. During interviews, the report claims Apple told prospective engineers that it expects to have its own modem ready by 2025, far later than the earliest considered possibility of 2021.
All in all, the report reaffirms the belief that Apple was so fed up with Intel's modem struggles that it had little to no choice but to settle its bitter legal battle with Qualcomm. That should result in Qualcomm modems in iPhones for at least a few years, at least until Apple finalizes its own chip.