Apple Considered Purchasing Intel's Smartphone Modem Chip Business
Apple had discussions with Intel about potentially acquiring parts of Intel's smartphone modem chip business, reports The Wall Street Journal. Apple was interested in Intel's technology to speed up its own efforts to build modem chips for smartphones.
Intel and Apple entered into discussions last summer and the talks continued for months, but ended right around the time Apple settled its legal dispute and reached a supply agreement with Qualcomm.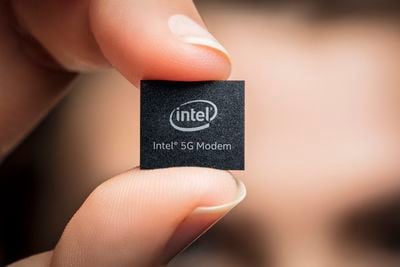 Sources at Intel that spoke to The Wall Street Journal said that Intel is exploring "strategic alternatives" for its smartphone modem chip business, and is still interested in a sale to Apple or another company.
In an interview yesterday, Intel CEO Bob Swan confirmed that Intel is considering alternatives "based on what's best" for Intel's IP and employees.
Selling the modem business would allow Intel to unload a costly operation that was losing about $1 billion annually, according to another person familiar with its performance. Any sale would likely include staff, a portfolio of patents and modem designs related to multiple generations of wireless technology, said Patrick Moorhead, principal at Moor Insights & Strategy, a technology firm.
Intel announced earlier this month that it was exiting the 5G smartphone business, just hours after Apple and Qualcomm announced a resolution to their legal troubles and a new supply deal.
Apple had been planning to use Intel's 5G chips in its 2020 iPhones, but rumors suggested Intel was having trouble meeting design deadlines and that the relationship between Apple and Intel was souring. Just yesterday, Swan also confirmed that Apple's deal with Qualcomm was the reason why Intel decided to stop making 5G chips.
Apple is now planning to use Qualcomm's 5G modem chips in its 2020 5G iPhones. Intel has said that it is going to continue to supply 4G LTE chips to meet already established orders, which means that Apple's 2019 iPhone lineup will likely continue to use Intel chips rather than Qualcomm chips. It is too late in the design cycle for Apple to swap chips for this year's upcoming devices.