The manufacturer of rigid-flex printed circuit boards (PCBs) used in Apple's AirPods 2 is ramping up production of the technology into early 2020 at least, despite rumors that Apple will launch two new AirPods models as early as this year with a different internal design.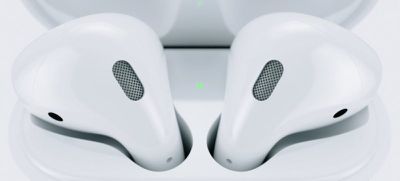 DigiTimes reports that Apple supplier Unitech Printed Circuit Board still sees the rigid-flex PCB combination as the mainstream technology for truly wireless headphones, and will expand its production capacity in Taiwan by 25-30 percent in 2019 to meet increased demand from clients.
In contrast, Apple's two new AirPods models are expected to make use of SiP (system in package) technology, which will improve assembly yield rates, save internal space and reduce cost.
Apple analyst Ming-Chi Kuo forecasts that the two new models will likely go into mass production between the fourth quarter of 2019 and the first quarter of 2020.
Kuo has said one of the new AirPods models will feature an "all-new form factor design" and a "higher price" than the second-generation AirPods, which cost $159 with a standard charging case and $199 with a wireless charging case. The other model is expected to be a more iterative update to AirPods 2 with the same pricing.
In March 2019, Apple launched its second-generation AirPods powered by an Apple-designed H1 chip, enabling hands-free "Hey Siri" functionality and up to 50 percent more talk time compared to the original AirPods. The second-generation AirPods feature the same outward design as the original.
Bloomberg reported that Apple's third-generation AirPods will feature a new design and perhaps improved water resistance that will allow the AirPods to hold up to "splashes of water and rain."
The AirPods aren't likely to be entirely water resistant, however, and won't be able to be submerged in liquid. These third-generation AirPods are also rumored to include noise cancellation features and increase the distance that AirPods can be listened to away from an iPhone or iPad.
Samsung, Huawei, Sony and Google are all actively developing their own truly wireless headphones, many of which are expected to use the older rigid-flex PCB technology. Apple now dominates nearly 70 percent of the truly wireless headphone market, according to DigiTimes, suggesting Apple's adoption of the new SiP tech could give the company an even greater advantage over rivals as the market continues to grow.