Kuo: Two New AirPods Models Likely in Late 2019 to Early 2020, Including One With 'All-New Design'
Apple will likely launch two new AirPods models as early as the fourth quarter of 2019, according to analyst Ming-Chi Kuo.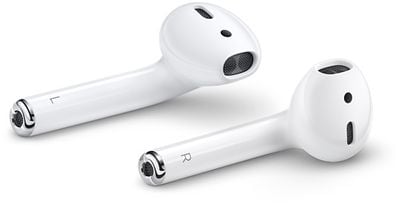 In his latest research note, obtained by MacRumors, Kuo forecasts that two new AirPods models will likely go into mass production between the fourth quarter of 2019 and the first quarter of 2020, with Luxshare, Goertek, and Amkor expected to be Apple's primary suppliers of the new earphones.
Kuo believes one of the new AirPods models will feature an "all-new form factor design" and a "higher price" than the second-generation AirPods, which cost $159 with a standard charging case and $199 with a wireless charging case. The other model is expected to be a more iterative update with the same pricing.
Both new AirPods models are said to adopt a new system-in-package design internally, which can improve assembly yield rates, save space internally, and reduce costs, but Kuo does not elaborate on outward-facing design changes.
The lead excerpt from Kuo's research note:
We expect Apple will likely launch two new AirPods models in 4Q19 at the earliest. One is the all-new form factor design at a higher price. The other's outlook and price will be the same as the current model's. A common internal design factor of these two new AirPods will be to abandon the current "SMT+RFPCB" design and change to adopt the SiP design instead for improving assembly yield rates, saving internal space and reducing cost.
Kuo is "positive on the demand for AirPods" and Apple's wireless headphones market share, as he believes the "all-new design" of one of the new models "could boost the replacement demand and attract new users." He estimates AirPods shipments will reach 52 million units in 2019 and 75-85 million units in 2020.
Last month, Apple launched second-generation AirPods powered by an Apple-designed H1 chip, enabling hands-free "Hey Siri" functionality and up to 50 percent more talk time compared to the original AirPods. The second-generation AirPods feature the same outward design as the original.
Bloomberg's Mark Gurman was first to reveal Apple's roadmap for AirPods, including the second-generation pair with "Hey ‌Siri‌" support, while DigiTimes also expects third-generation AirPods to launch by the end of the year.