'iPhone XI' and 'iPhone XI Max' Expected to Be Slightly Thicker and Feature Redesigned Mute Switch
Indian blog CashKaro has collaborated with OnLeaks to share new renders of the so-called "iPhone XI" and "‌iPhone‌ XI Max," providing a side-by-side comparison of the expected successors to the ‌iPhone‌ XS and ‌iPhone‌ XS Max.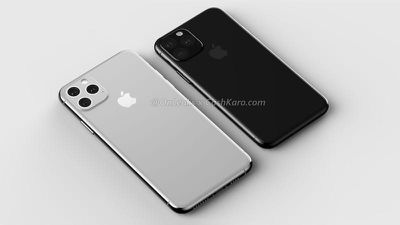 Both new iPhones are expected to stick with the same 5.8-inch and 6.5-inch OLED displays as the ‌iPhone‌ XS and ‌iPhone‌ XS Max, but the thickness of each device is said to increase to 8.1mm and 7.8mm respectively as previously reported. Both the ‌iPhone‌ XS and ‌iPhone‌ XS Max are 7.7mm thick.
Apple's depth measurement does not include the camera bump, so with the slight reduction in size expected there, the change in overall thickness between 2018 iPhones and 2019 iPhones may be negligible.


As widely rumored by now, the new iPhones are expected to feature a triple-lens rear camera system in a triangular arrangement. While the camera bump has a larger square-shaped design, it appears to be less protruding, as the rear panel of each device is said to be formed out of a "single piece of glass."
The renders also suggest that 2019 versions of the ‌iPhone‌ XS and ‌iPhone‌ XS Max will feature a redesigned circular-shaped mute switch within a pill-shaped cutout, similar to the one on older-generation iPads.


Beyond that, the renders suggest that 2019 iPhones will be similar to 2018 iPhones in many ways, complete with the same notch, bezels, stainless steel frame, Lightning connector, speaker grilles, and volume buttons. This would be more or less the same design as Apple has used since the ‌iPhone‌ X in 2017.
In addition to the static images, CashKaro and OnLeaks teamed up to create a 360-degree video of the renders:
Apple should unveil its next-generation ‌iPhone‌ lineup in September as usual alongside Apple Watch Series 5 models and other announcements. While not shown here,
a new iPhone XR
is also widely expected with a dual-lens rear camera system, up from a single lens on the current model.