iFixit Teardown of Samsung Galaxy Fold Reveals Likely Design Flaw
iFixit today published its teardown of Samsung's Galaxy Fold, offering more details on a potential flaw in the device, which has now been delayed following reports of several broken review units.
Essentially, it looks as though Samsung was so focused on perfecting the folding mechanism on the smartphone/tablet hybrid that it made a major oversight: providing adequate protection against the ingress of debris between the OLED screen and the chassis bezel.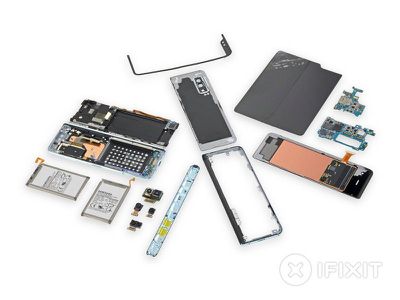 To achieve the fold, the thin bezel that surrounds (and protects) the screen leaves a gap where the two halves meet... This 7 mm gap doesn't seem like a huge deal, but it leaves the display exposed—so should something accidentally enter, it's curtains for the screen. (Oops.)

When closed, the screen is protected—but the spine is flanked by massive gaps that our opening picks hop right into. These gaps are less likely to cause immediate screen damage, but will definitely attract dirt.
Many reviewers experienced multiple issues while testing the device, including a random bulge appearing on the display, as well as flickering and failing screens. In many cases, the issues were enough to make the $1,980 device completely unusable.
In a statement, Samsung said its initial findings from the inspection of reported issues on the display showed that they could be associated with impact on the top and bottom exposed areas of the hinge. It also said "substances" were found inside the device, which affected the display performance.
As iFixit notes, it will be interesting to see how folding designs manage to overcome these weaknesses in future - if indeed they have a future. Following Samsung, Huawei and Xiaomi revealed that they too will launch folding smartphones, and there are signs Apple is looking into the possibility of a foldable iPhone. Apple has filed several patent applications related to folding phones that variously fold inward, outward, and both inward and outward.

Potential point of entry for debris ingress (Image: iFixit)
As for the Galaxy Fold, the months ahead look increasingly uncertain. One day after Samsung said it was
delaying the launch of the hybrid handset
, the company announced that it would be
retrieving all Fold devices that were distributed to reviewers
.
In an email to pre-order customers about the delayed launch, Samsung said that it will update customers with more specific shipping information in two weeks. "Your pre-order guarantees your place in the queue for this innovative technology," the company promised.