Apple Celebrates Earth Day 2019
Today is Earth Day, an annual event celebrated around the world that brings attention to various environmental causes. Apple is taking part in the event in a variety of ways, from green Apple logos in retail locations to providing an update on its mission to conserve mangrove trees in Colombia.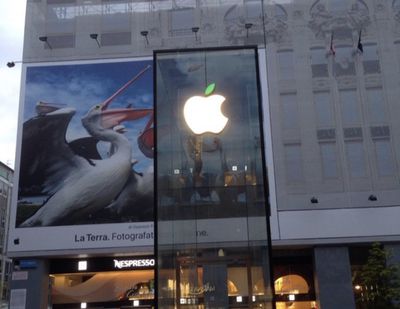 As it does every year in its retail stores, Apple has turned the leaves of the Apple logo green
in honor of Earth Day
. Select locations have also provided workers with green t-shirts to mark the event, and all Apple stores today will promote environment-themed Today at Apple sessions.
The company is also hosting an Apple Watch challenge today, asking users to get a 30 minute workout done before the day ends. Apple usually hosts Activity Challenges for major holidays and well-known events, and for the past several years there's been an Earth Day Challenge with the same goal as 2019 -- complete a 30 minute workout.
Apple today also shared a press release that provides an update on its efforts to preserve the mangrove trees in Cispatá Bay in Córdoba, Colombia. Last year on Earth Day, Apple partnered with Conservation International to protect and restore Cispatá Bay, due to the area's importance in the battle against climate change. "Globally, we've lost half of the world's mangrove forests since the 1940s," said Apple VP of Environment Lisa Jackson. "So it's high time we start preserving and protecting them."
The company has also marked Earth Day across its services. Beginning with
Apple Music
, the
Mixtape for Mother Earth
has been refreshed this year with curation by Jaden Smith. It includes tracks like "Come Together" by The Beatles, "Summertime Magic" by Childish Gambino, and more. Jaden
joined his parents
Will and Jada at
Apple Park
last week to discuss the environment and Jaden's company, Just Water.
Apple is also marking down a collection of environmentally-friendly films on iTunes Movies in a new sale. This includes a suite of Disneynature documentaries for $9.99, and films focused on climate change, the natural wonders of the planet, and animated features for kids with environmental messages like Wall-E and FernGully.


A similar section has appeared in iBooks as well, providing readers with books themed around the environment. These include books that allow you to "Explore the Natural World," "Get Informed," "Do Your Part," and a section focused on kids' books like Dr. Seuss' "The Lorax" and "Curios George Plants a Tree."
Earlier in April, Apple announced that it has nearly doubled the number of suppliers that have committed to run their Apple-specific production on 100 percent renewable energy, bringing the total number to 44. This includes iPhone assemblers Foxconn, Pegatron, and Wistron; Gorilla Glass maker Corning; Face ID module provider Finisar; A-series chipmaker TSMC; Apple Watch manufacturer Quanta Computer; and AirPods assembler Luxshare.
The company continued its environment-friendly announcements later in the month by revealing a new "Material Recovery Lab" had opened in Austin, Texas, dedicated to looking for innovative solutions that will improve on traditional methods of recycling. Apple also revealed a major expansion of its recycling program, quadrupling the number of locations where United States customers can send their ‌iPhone‌ to be disassembled by its recycling robot Daisy, which was introduced around last year's Earth Day.