Will, Jaden and Jada Smith Visit Apple Park for Environmental Discussion
Will Smith, his wife Jada Smith, and his son Jaden Smith today visited Apple Park to discuss the environment and Jaden's Just Water company, according to a tweet Apple CEO Tim Cook shared on Twitter this evening.
Just Water is a water company that sells ethically sourced spring water in paper-based bottles with sugarcane caps, all of which is more environmentally friendly than a standard plastic bottle. In addition to plain spring water, Just Water also offers infused flavors like lemon, tangerine, and apple cinnamon.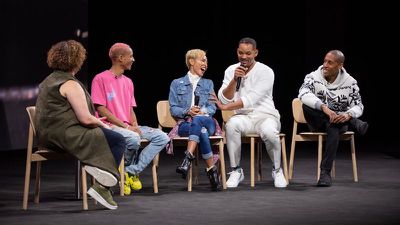 The Smiths were at ‌Apple Park‌ ahead of Earth Day, which takes place on Monday, April 22. Apple today also released its annual environmental report and
launched its Material Recovery Lab
in Austin, Texas.
In celebration of Earth Day, Apple plans to host environment-themed Today at Apple sessions at its Apple retail stores. The company will also feature original stories and app collections in the App Store and will host an Earth Day Apple Watch challenge.