New iPad Mini Reviews: Capable Small Tablet With Nearly All Features of New iPad Air
Early reviews and hands-on impressions of the new iPad mini came out today. Most publications agree that the iPad mini is a great update for fans of the smaller 7.9-inch tablet with almost identical tech specs to the new iPad Air.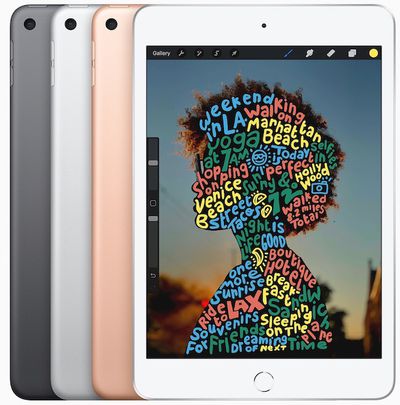 That includes the same A12 Bionic chip, 8-megapixel rear camera, 7-megapixel front camera, Touch ID, Lightning connector, 64GB and 256GB storage options, two speakers, headphone jack, Gigabit-class LTE, first-generation Apple Pencil compatibility, and up to 10 hours of battery life.
The new ‌iPad mini‌'s only notable differences versus the new ‌iPad Air‌ are its smaller screen and lack of Smart Keyboard compatibility.
As The Verge's Nilay Patel notes, however, the ‌iPad mini‌ design is now very old:
You're still looking at the exact same external design, which is now nearly seven years old. If you secretly replaced any previous iPad mini with the new one, there's a chance you might not even notice the difference. All the changes to this new mini are on the inside, and they're significant — which they should be, given the amount of time since it was last refreshed.
And while the ‌iPad mini‌ finally supports the ‌Apple Pencil‌, it comes with all of the downsides of the first-generation version:
…the iPad Pro came out late last year with a new second-gen pencil that magnetically clips onto the side of the iPad and charges wirelessly, but this new mini doesn't have any of that. Instead, you've got Apple's first-gen Pencil, which has never been a triumph of design or usability. You still pair and charge it by plugging it into the bottom of the iPad, which looks even more ridiculous on the mini, and the cap is still insanely easy to lose.
As for the ‌iPad mini‌ sticking with the Lightning connector, Apple told Patel that it views USB-C as a "pro" feature — aka iPad Pro.
Patel added that "the display is very nice" on the new ‌iPad mini‌ despite not having the ‌iPad Pro‌'s ProMotion variable refresh rate for smooth scrolling, but found that its same old 8-megapixel rear camera "takes at best medium-good photos."
Most reviews conclude that if you want the smallest iPad possible, the new ‌iPad mini‌ is quite capable and at least somewhat reasonably priced at $399. And with little competition from Android tablets, the ‌iPad mini‌ is one of the only small tablets worthy of consideration in the first place.
Patel's closing paragraph:
But the decision to get an iPad mini is simple: do you want a small, capable tablet? If you do, the mini is obviously worth $399, especially when you consider how long Apple has supported iPads for in the past. There's just nothing else like it. Let's just hope that next time we don't have to wait four years for Apple to remember it exists again.
Lauren Goode of Wired:
I haven't fallen in love with the new Mini, just as I never felt the need to buy one before. But I could see why people would. It's less burdensome than a lot of other things we carry. It's not quite pocketable, but it's close. Again, I can't hold it in one hand, but some people can, I'm sure. The Mini feels personal in a way that other devices no longer do. Not because of its actual newness, but because it is still here, and slightly reinvented once again.
Harry McCracken of Fast Company:
It still looks like an iPad Mini–complete with home button and headphone jack. But after three loooooong years, Apple's little tablet is finally getting the features it needs to qualify as a modern iPad.
Chris Velazco of Engadget:
I'd actually argue it's perhaps the best small tablet out there right now. There's more than enough power here for most people, and if portability is your biggest concern, there's no denying the mini is more convenient to lug around.
Raymond Wong of Mashable:
There simply isn't a tablet as powerful as the new iPad mini with the same or similar dimensions. You can get a 7-inch Kindle Fire for $50, but it's demonstrably inferior in every way from the construction, to the app selection, to the performance, to the storage, to display, and etc.
Scott Stein of CNET:
An iPad Mini with a faster processor and Pencil support is filling a specific need not everyone will have. It's like a specifically sized screw, or a particular TV size. As Apple keeps splitting its iPad line into more variants, the Mini feels far less essential than ever, particularly as the iPhone screens creep to six inches or more. But if you need an efficient iPad this size and don't want a bigger iPhone for the job... well, this is what you're looking for.
Videos
Other Reviews and Hands-On Impressions
The new ‌iPad mini‌ can be ordered now on Apple.com and will be available in Apple Stores starting next week.