Qualcomm Owes Apple Almost $1 Billion in Rebate Payments According to New Court Ruling
Qualcomm owes Apple close to $1 billion in rebate payments a U.S. District Judge for the Southern District of California said in a preliminary ruling today, siding with Apple in the ongoing Apple vs. Qualcomm legal battle.
Qualcomm, ruled the judge, is obligated to make the rebate payments to Apple as they were part of a business agreement between the two companies.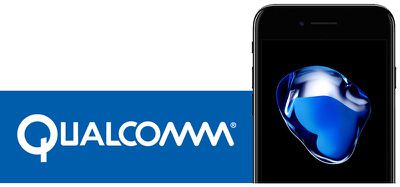 Today's ruling is unrelated to the patent trial that wrapped up this week and instead pertains to Apple's rebate lawsuit against Qualcomm. Two years ago, Apple sued Qualcomm and said that the chip company had been refusing to pay patent royalty rebates mandated by the agreement.
As explained by Reuters, Apple's suppliers would pay Qualcomm royalties to use Qualcomm's patented technology in iPhones, which Apple would reimburse. Qualcomm and Apple had an agreement that said Qualcomm would pay Apple a rebate on these iPhone patent payments if Apple did not attack it in court or with regulators.
Qualcomm said that it stopped making the required royalty payments to Apple because Apple broke the agreement by urging smartphone makers to complain to regulators and by making "false" statements to the Korean Fair Trade Commission, which was, at the time, investigating Qualcomm for antitrust allegations. Apple in turn said that it was providing lawful responses to Korean regulators as part of the ongoing investigation.
Apple was in the right according to the preliminary ruling, and Qualcomm should have continued to make the royalty payments. In a statement to Reuters, Qualcomm commented on the judge's decision.
"Although the Court today did not view Apple's conduct as a breach of Apple's promises to Qualcomm in the 2013 Business Cooperation and Patent Agreement, the exposure of Apple's role in these events is a welcome development."
Today's ruling was preliminary, and it won't be finalized until the two companies meet in court for the rebate lawsuit, which is set to begin next month. Reuters says that it is unlikely Qualcomm will make a new payment to Apple as Apple's contract factories have already withheld nearly $1 billion in payments to Qualcomm as a way for Apple to recoup its money.
Apple and Qualcomm have been embroiled in an increasingly bitter legal battle for more than two years now, with the fighting spanning multiple countries and covering everything from royalty payments to patent infringement. Right now, Apple and Qualcomm are awaiting the U.S. trial for the rebate dispute and the results of the recent patent infringement trial.