Qualcomm Wants Apple to Pay $31 Million in Damages in Patent Battle
Qualcomm today told a San Diego jury that it wants Apple to pay $31 million in damages for patent infringement violations, which is allegedly equivalent to $1.40 per infringing iPhone.
The new information comes from CNET, which has been covering the Qualcomm vs. Apple patent trial that's in court this week.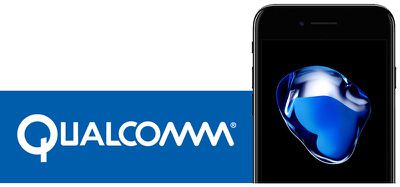 $1.40 per ‌iPhone‌ and a total of $31 million in damages suggests that Qualcomm believes only 22 million iPhones are infringing on its technology. Qualcomm came up with that total with the help of economist Patrick Kennedy, who took the stand as an expert witness for Qualcomm today. Kennedy calculated the figure based on iPhones sold from July 2017 on that used chips by Intel. Apple started using a mix of chips from both Intel and Qualcomm in the ‌iPhone‌ 7, and later transitioned to all Intel chips due to the legal troubles with Qualcomm.
Qualcomm and Apple are fighting over three patents that Qualcomm says Apple infringed on with its iPhones. As CNET describes, one of the patents covers a method for allowing a smartphone to quickly connect to the internet once turned on, while another covers graphics processing and battery life. The third patent Apple is accused of violating allows apps to download data more easily by directing traffic between the apps processor and modem.
Apple just last quarter earned more than $20 billion in profit, so $31 million in damages wouldn't be a hit to the company's bottom line. If Qualcomm wins the trial, though, its claim that its technology is at the "heart of every ‌iPhone‌" would be more credible.
Apple and Qualcomm have been fighting since January 2017, when Apple sued Qualcomm for $1 billion in unpaid royalty fees. Qualcomm countersued, and since then, the two companies have levied multiple lawsuits against one another. Two of Qualcomm's lawsuits have resulted in import bans in Germany and China, both of which Apple was able to skirt with hardware and software updates.
The current patent trial between Apple and Qualcomm will last through next week.