Apple Music Now Available on Amazon Fire TV
Amazon today expanded its Apple Music integration to the Amazon Fire TV, allowing Fire TV owners to ask Alexa to play songs from the ‌Apple Music‌ service.
According to CNBC, ‌Apple Music‌ on the Amazon Fire TV is available starting today.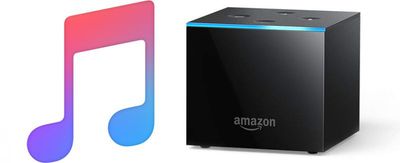 The expansion comes three months after Apple allowed ‌Apple Music‌ to be streamed on Amazon Echo speakers using the Alexa voice assistant.
On the Fire TV, users can use commands like "Alexa, play music by Stevie Nicks," or "Alexa, play a Fleetwood Mac album" to play content directly from ‌Apple Music‌.
It can be enabled by going to the Alexa app on an Android or iOS device and activating the ‌Apple Music‌ skill. Those who have already set up ‌Apple Music‌ with Alexa for Echo devices will not need to repeat the steps.
Right now, ‌Apple Music‌ is limited to the Fire TV and Amazon Echo speakers, though it may be expanded to third-party Alexa devices in the future.
Apple's effort to allow ‌Apple Music‌ to be streamed on third-party platforms is part of a deeper push to grow services revenue. Apple is also planning to expand iTunes to Samsung Smart TVs in the form of an iTunes app, and AirPlay 2 functionality is being built into recent smart TV sets from a number of manufacturers like Sony and LG.