Hollywood Producers Say 'Intrusive' Apple Executives and 'Lack of Clarity' Impeding Original Content Efforts
Apple CEO Tim Cook and other executives are getting deeply involved with the behind-the-scenes production of the company's original television shows, which are set to debut later this year. Apple has been "difficult" to deal with on the project, according to unnamed agents and producers working with Apple on its foray into streaming TV (via The New York Post).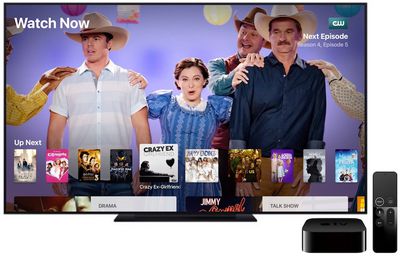 Cook and other executives have been described as "intrusive," with the biggest complaint involving numerous notes that Apple has been sending streaming partners as they watch each show and contribute their opinion. Other sources stated there has been a "lack of transparency" and "lack of clarity" on what Apple wants throughout the process.
One agent noted that Apple has been "very involved," explaining that writers and directors typically prefer to work without heavy oversight from higher-ups in corporate. This involvement has included a repeated note sent by Cook telling producers and showrunners, "don't be so mean!" It's unclear which shows this note has been sent to, and how many.

"Tim Cook is giving notes and getting involved," said a producer who has worked with Apple. One of the CEO's most repeated notes is "don't be so mean!," the source said.
Cook has visited the sets of multiple shows, including the Vancouver set of See, a futuristic science fiction show, and the Los Angeles set of the morning show drama starring Jennifer Aniston and Reese Witherspoon.
In terms of the launch, Apple's nitpicking over content and technology has caused numerous delays, and content partners are said to be slightly irritated about these delays. Original rumors suggested the service would see a public launch by the spring of 2019, but now it's believed Apple won't launch its streaming TV service until summer or fall 2019, although an event on March 25 will see the public announcement of the service.
Amid all of this, one producer stated that Apple's overall goal isn't clear enough and that a lack of clarity has caused confusion among many entertainment partners.

Another frustration is that Apple also keeps moving the target on what it wants, sources said.

"They are making big changes, firing and hiring new writers. There's a lack of clarity on what they want," the producer said. "A lot of the product is not as good as they hoped it to be," he said.
We've seen similarly opposing reports over the past few months, with some suggesting that Apple was looking to avoid mature content on its TV shows and others claiming that the company was on the hunt for the next Breaking Bad. Apple might be okay with mature content, as long as it has substance and isn't gratuitous, but again today The New York Post's sources suggest that Apple's notes to showrunners include keeping content suitable for families.
At the same time, it's unclear which shows these notes were given to as Apple has well over a dozen TV shows in development, with vastly different genres among each. We'll know more about Apple's streaming TV service soon enough, as the company's rumored March 25 event is three weeks from today.