Report Claims Apple's Original Programming Efforts Will Avoid Mature Content
Apple is unlikely to produce original content that contains gratuitous sex, violence, profanity, or risqué storylines, according to a report published over the weekend by the Wall Street Journal.
The article cites several sources familiar with Apple's original programming plans who say Apple wants to avoid putting its name to anything that could risk tainting its wider brand image.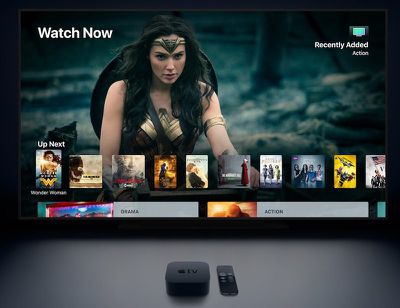 It also relates CEO Tim Cook's alleged reaction to watching Apple's first scripted drama, "Vital Signs," a semi-autobiographical tale of hip hop artist Dr Dre.
According to the paper's sources, Cook previewed the show and was "troubled" by scenes depicting drawn guns, sex and drug use, and reportedly told Apple Music executive Jimmy Iovine that Apple couldn't show it.

Across Hollywood and inside Apple, the show has become emblematic of the challenges faced by the technology giant as it pushes into entertainment. Apple earmarked $1 billion for Hollywood programming last year. But in the tone CEO Mr. Cook has set for it, whatever Apple produces mustn't taint a pristine brand image that has helped the company collect 80% of the profits in the global smartphone market.

Apple's entertainment team must walk a line few in Hollywood would consider. Since Mr. Cook spiked "Vital Signs," Apple has made clear, say producers and agents, that it wants high-quality shows with stars and broad appeal, but it doesn't want gratuitous sex, profanity or violence.
Apple's approach is in direct contrast to that of other streaming platforms, which have found great success in producing edgy content like HBO's "Game of Thrones" and Netflix's "House of Cards." However, Apple apparently feels it has more to lose if viewers are offended by its entertainment offering.
"As a consumer-product company, Apple is especially exposed if content strikes a sour note," said Preston Beckman, a former NBC and Fox programming executive who spoke to WSJ. "For Netflix, the only risk is that people don't subscribe. With Apple, you can say, 'I'm going to punish them by not buying their phone or computer.'"
Apple has hired former Sony Pictures TV executives Jamie Erlicht and Zack Van Amburg to head up the company's broader push into original video programming. Erlicht and Van Amburg have helped produce shows like "Better Call Saul," "The Crown," "Sneaky Pete," and more.
According to the report, Van Amburg and Erlicht have successfully pushed some edgier shows, including a series made by M. Night Shyamalan about a couple who lose a young child. However, Apple executives reportedly pushed for changes in the show because they didn't want content to venture into religious subjects or politics.
Similar concerns over keeping content "safe" have reportedly contributed to delays in Apple's original content streaming, which has been postponed twice and is now expected to launch in March 2019. However, one leading producer with projects at Apple expects the date to be pushed back yet further, according to the latest report.
Apple is known to have invested in at least 12 television shows so far. They include a new animated TV series called "Central Park" and an untitled morning show drama starring Jennifer Aniston and Reese Witherspoon. According to WSJ, however, the latter is delayed because of scheduling issues with Witherspoon.
Apple's original TV shows are expected to be distributed through a new video streaming service, which could also be bundled with an Apple Music subscription and a digital magazine and news subscription.