Samsung Unveils New $1,980 Galaxy Fold Smartphone
At its Unpacked 2019 event that took place in San Francisco today, Samsung officially unveiled its foldable smartphone, the Galaxy Fold. According to Samsung, the Galaxy Fold is a powerful smartphone and a revolutionary tablet all in one, a device that "defies category."
When folded up, the Galaxy Fold has a 4.6-inch display that's designed to fit in the palm of a hand, and when opened up, it has a 7.3-inch display that's tablet sized. It works with a hidden hinge with gears that are under the display. You can't see the hinge, providing a seamless look for the device.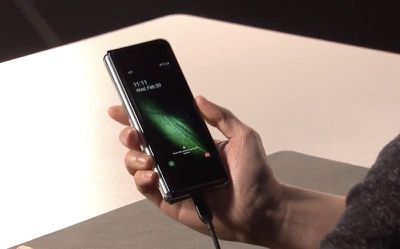 Described as a luxury device, the Galaxy Fold comes in four colors: black, silver, green, and blue, and with some color options, the outside hinge shade can be customized.


Samsung worked with Google to create apps optimized for the dual-display fold, which supports a feature called App Continuity to keep the same apps open regardless of whether the Galaxy Fold is open or closed. With Google Maps, for example, in a folded mode you can see the map, but if you open it up, you can see a whole lot more.


Inside, there's a 7-nanometer processor, 12GB of RAM, and 512GB of storage, with Samsung describing it as one of the most powerful smartphones on the market. There's a 4,380mAh battery, which is actually two batteries on either side of the hinge.
It has six cameras -- three on the back, two on the inside, and one on the front so it can capture images no matter which way it's folded.
Galaxy Fold comes in two versions, one with LTE and one with 5G. Pricing starts at a whopping $1,980 and it will be available starting on April 26. It will ship with Samsung's upcoming AirPods competitors, the Galaxy Buds.