Bank of America Analyst Says Apple Plans to Launch Foldable iPhone in 2020
Apple plans to launch a foldable iPhone two years from now, according to Wamsi Mohan, an analyst at Bank of America Merrill Lynch.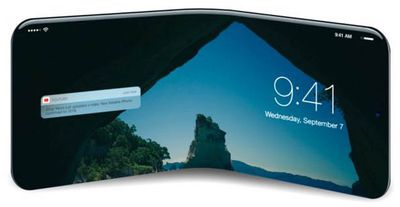 A fan-made foldable iPhone concept
Mohan shared his prediction in a research note obtained by
CNBC
after spending a week in Asia meeting with companies in Apple's supply chain. He expects the foldable iPhone will launch in 2020 and said it could potentially "double up as a tablet," suggesting the device could expand to have an iPad-like form factor.
This isn't the first time we've heard this rumor. Back in December 2016, a Korean report said LG Display was developing and mass-producing foldable displays for smartphones. And, as of October 2017, it appears that LG Display has reached an agreement to supply Apple with its foldable displays for future iPhones.
LG has shown off various futuristic-looking curved and foldable display prototypes over the past three years, including one with a book-like design and another that can be rolled up like a newspaper. Both designs take advantage of the flexible property of OLED displays, compared to rigid LCD screens.
For that reason, the iPhone X is a good start on the path towards a foldable iPhone, should one ever materialize.
While not visible, the iPhone X actually has a flexible OLED display that curves behind itself on the inside of the device. The curved portion houses the display controller chip, and this clever engineering feat allows the iPhone X to have a slimmer bottom bezel, which is normally where the chip is located.

iPhone X's flexible OLED display
A foldable iPhone would require further innovation. If the device can be rolled up like a newspaper, then components like the logic board and battery would need to be flexible enough to bend rather than buckle. But if it only folds in half, then components could still be rigid and connected with flex cables.
Apple applied for a foldable display patent last year and is likely researching ways to create a foldable iPhone, but that doesn't guarantee we'll ever see a consumer-facing product. 2020 might be an overly ambitious timeframe, too, but technology can change a lot in two years, so we'll have to wait and see.