Strategy Analytics: Apple Shipped an Estimated 65.9 Million iPhones in Holiday Quarter
Apple shipped an estimated 65.9 million iPhones during the first fiscal quarter of 2019 (aka the fourth calendar quarter of 2018) according to new data shared today by Strategy Analytics.
As of this quarter, Apple is no longer providing a breakdown of unit sales of the iPhone, iPad, and Mac, so we will not have concrete data on how well the ‌iPhone‌ is selling going forward.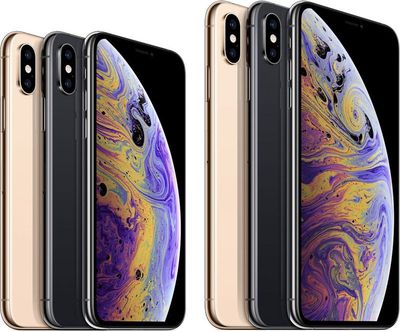 Apple in Q1 2018 sold 77.3 million iPhones, which would mean Apple sold 11.4 million fewer iPhones in Q1 2019 if Strategy Analytics' estimates are correct, marking a 15 percent decline in sales year-over-year.
Global iPhone shipments fell sharply, due to high retail pricing, unfavorable foreign exchange rates, intense competition from rivals like Huawei, battery replacement programs driving longer ownership cycles, diminished carrier subsidies in some developed markets, and flagging demand in some emerging markets.
Apple's Q1 2019 ‌iPhone‌ revenue was $52 billion, down from $61 billion in the year-ago quarter, also a 15 percent decline. The drop in ‌iPhone‌ revenue led to total revenue of $84.31 billion, down from $88.3 billion in Q1 2018.
Despite the decline in ‌iPhone‌ sales, which Apple CEO Tim Cook has attributed to weakness in China and fewer upgrades, Q1 2019 was Apple's second-best in terms of both revenue and profit, coming in behind only the first fiscal quarter of 2018.