AirPlay 2 on Smart TVs: Other Brands Coming, Lock Screen Controls, Siri, and More
Following today's news that Samsung and Apple have worked together to bring an iTunes Movies & TV app and AirPlay 2 support to 2018 and 2019 Samsung smart TVs, Apple has updated its AirPlay page with additional info on how that feature will be implemented on TVs. Among the details described as coming soon:
- Apple says "leading TV manufacturers" will be including AirPlay 2 support in their TVs, indicating that this initiative will not be a Samsung exclusive. Apple has not, however, announced additional TV partners or a timeline for when AirPlay 2 will come to these other brands. Samsung's support is rolling out in a firmware update for 2018 TVs and built into 2019 models "beginning this spring."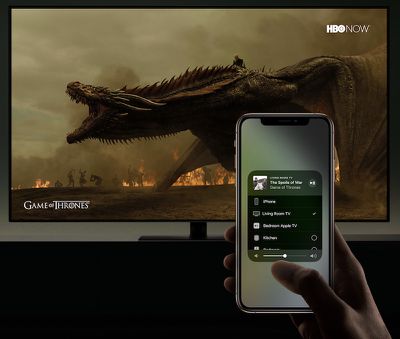 - AirPlay 2-enabled TVs will act just like any other AirPlay 2 speaker, meaning you can send many different types of audio from an iOS device or your Mac to your TV. Music being sent to your TV via AirPlay 2 can also be synced with other AirPlay 2 speakers.


- You can already control AirPlay content such as play/pause, fast forward, and rewind via a Lock screen widget or Control Center on your iOS device, and Apple has confirmed that AirPlay content on smart TVs can be controlled the same way, including control of the TV volume.


- Smart TVs with AirPlay 2 will also integrate with Siri and HomeKit, meaning you can use your voice to request that a specific show be played on a specific TV, for example.
It's unknown whether we can expect to hear more announcements about Apple's smart TV partnerships this week at CES, but we'll certainly be looking forward to more details about which TVs will support greater integration with Apple's services and when.