2019 iPhones Could Feature Smaller Notch as Apple Supplier Announces Under-Display Light and Proximity Sensors
Austrian Apple supplier AMS today announced the launch of new sensor technology that could be incorporated into future iPhones to cut down on the size of the notch that houses the TrueDepth Camera System used for Face ID.
AMS has developed a new RGB light and IR proximity sensor that's designed to be installed behind a smartphone's OLED display, reducing the outside area required for these sensors.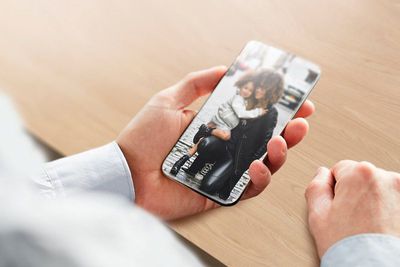 The company says that its new light and proximity sensor could perhaps result in the elimination of the bezel in its entirety.
"Smartphone OEMs today are striving to maximize their products' screen-to-body ratio, reducing the bezel area as much as possible on the display's face," said David Moon, Senior Marketing Manager at ams. "The TCS3701 enables phone designers to take this trend to a new level, potentially eliminating the bezel entirely. This is only possible because the TCS3701 can operate behind an OLED display, a breakthrough enabled by the outstanding sensitivity of the device and by the implementation of sophisticated measurement algorithms to compensate for the optical distortion caused by the OLED display."
According to AMS, the light and IR proximity sensor can sense ambient light passing through an OLED display, with unique algorithms developed to allow for accurate detection of ambient light without interference by the display's pixel brightness.
As noted by Reuters, AMS is the company that provides Apple with optical sensors for the TrueDepth camera system on the iPhone X, XR, XS, and XS Max. While AMS does not list Apple as a customer, analysts believe Apple accounts for approximately 45 percent of AMS' business.
Rumors have suggested that Apple is planning to introduce a smaller notch in its 2019 iPhones, and this new technology from AMS paves the way. We've also heard rumors suggesting Apple could debut an iPhone design that eliminates the notch entirely, but it's not entirely clear just how that would work as the front-facing camera still needs to be able to function even with some sensors under the display.