Next iPhone X Lineup Said to Feature Smaller Notches, 2019 Models May Ditch Notch Entirely
The next-generation iPhone X will feature a smaller notch for the TrueDepth camera system, while future models released in 2019 or later will have no notch whatsoever, according to Korea's ET News.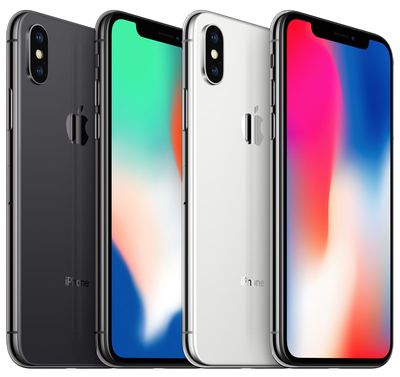 The report reiterates Apple's widely rumored plans to release three new iPhone models this year, including a second-generation 5.8-inch iPhone X, a larger 6.5-inch version dubbed iPhone X Plus, and a mid-range 6.1-inch model with design tradeoffs like an LCD screen to achieve a lower price point.
The interesting bit is that all three iPhone models are said to feature slimmer bezels and smaller notches, emphasis ours:
Apple is planning to release two models with OLED display and a model with LCD display during this fall. It is heard that OLED models will be available in 5.85-inch display and 6.46-inch display while a LCD model will be available only in 6.04-inch model. All three of these models will have Face ID function and it is heard that there will be less bezel and smaller notch design.
An unnamed industry source added that Apple has decided to remove the notch "from 2019 models," suggesting the third-generation iPhone X could be the first model with a truly full-screen design.
"Apple decided to get rid of notch design starting from 2019 models and is having discussions with relevant companies," said a representative for an industry. "It seems that Apple is planning to implement full-screen that is more complete to its new iPhones."
The report claims each iPhone will have Face ID, but it's unclear how Apple would manage to fit the required TrueDepth sensors on the front of the devices without a notch. The report speculates that Apple could drill holes into the display itself, or use patented multi-layer Black Matrix technology.
Barclays analysts have also predicted the trio of new iPhone models released in 2018 could have smaller notches. ET News previously said Apple was exploring ways to combine a face recognition module with a camera module.
Apple removing the notch on the iPhone X is almost certainly its end goal, but as with any supply chain report, the timing of the move is uncertain.