The Next Nokia Smartphone Will Feature Unique 5-Camera Setup
HMD Global's next smartphone, the Nokia 9 PureView, may come equipped with an interesting-looking five camera setup, according to an alleged leaked launch video of the device shared by rumor site MySmartPrice and leaker Evan Blass.
The video depicts a Nokia device with seven rear circles, dedicated to five ZEISS cameras, a flash, and other sensors.
According to the promo video, the five camera setup allows for five simultaneous shots to be captured at once and then combined, allowing for features that include "10x more light," "incredible texture and detail," and "stunning crisp HDR photography."
Like many other smartphones, the new Nokia device supports refocusing the depth of field after a shot, but the specifications for the device don't go into detail about the benefit (if any) of five cameras other than improved crispness, texture, and low light performance.
The device also features a 5.99-inch display with bezels at the top and bottom, an in-display fingerprint sensor, and support for Android One, an unmodified version of Android created by Google for a more consistent Android usage experience.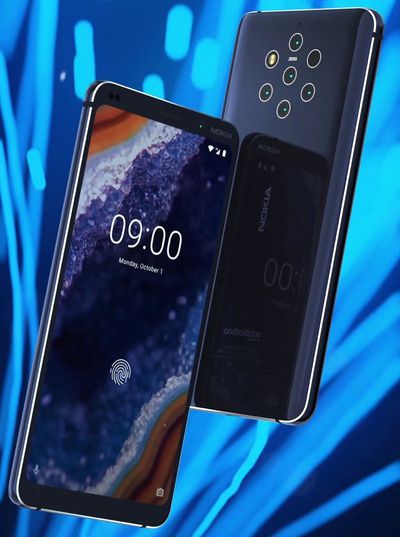 Since Apple and other manufacturers introduced a dual-camera design, smartphone manufacturers have been aiming to one up each other with more and more cameras.
LG and Huawei have both introduced three camera rear setups on their most recent smartphones. LG's triple cameras allow for different perspectives because there's a wide-angle lens, a super wide-angle lens, and a telephoto zoom, along with 3D lighting effects and HDR features. Samsung too has been increasing its camera count with the four camera system in the Galaxy A9.
Rumors suggest that Apple is planning to up the number of rear cameras in the next-generation iPhone, perhaps introducing a three camera system with features like improved low-light performance and 3x optical zoom.
HMD Global is said to be planning to unveil the new five camera Nokia smartphone sometime around the end of January.