Kuo: 2019 iPhones Unlikely to Feature Time-of-Flight 3D Sensor in Rear Camera
Looking ahead to next year, Ming-Chi Kuo believes that contrary to some analysts' expectations, Apple is unlikely to integrate a time-of-flight (ToF) depth sensing system in the rear camera of its 2019 iPhones.
Reports of Apple including rear-facing 3D sensing capabilities in its 2019 iPhone lineup first began appearing last year. At the time, Apple was said to be evaluating a ToF approach, which is different from the one it currently uses in the TrueDepth sensor system on the front of the iPhone X.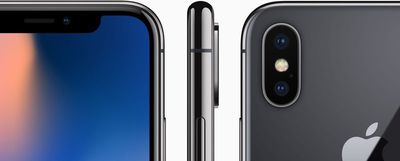 TrueDepth relies on a structured-light technique that projects a pattern of 30,000 laser dots onto a user's face and measures the distortion to generate an accurate 3D image for authentication. By contrast, ToF calculates the time it takes for a laser to bounce off surrounding objects to create a 3D image of the environment.
However, in a note to investors this morning, obtained by MacRumors, Kuo said that the company would not use a rear-side application of ToF technology in next year's smartphone lineup for two reasons.
First, the distance and depth information provided by rear-side ToF is currently insufficient for creating the "revolutionary AR experience" that Apple ultimately wants to develop. Kuo believes that in addition to camera distance/depth data, the complete AR ecosystem Apple is aiming for requires 5G connectivity, augmented-reality glasses, and a "more powerful Apple Map database," which is presumably a reference to Apple's efforts to enhance Maps with augmented reality features.
Second, the addition of rear-side ToF would do little to improve the iPhone's photo-taking capabilities, because the current dual-camera setup is already capable of capturing or simulating enough distance/depth information to make photo-features like Portrait Mode a reality.
"We believe that iPhone's dual-camera can simulate and offer enough distance/depth information necessary for photo-taking; it is therefore unnecessary for the 2H19 new iPhone models to be equipped with a rear-side ToF," Kuo concludes.
Last October, Kuo similarly pushed back against reports that Apple would expand its front-facing TrueDepth system to the rear camera on this year's iPhone lineup, which is due to be announced later today. Given Kuo's latest remarks on Apple's smartphone roadmap, rumors of rear-camera 3D sensing capabilities for next year's lineup seem just as unlikely.