One Analyst Thinks the Next iPhone Will Have a USB-C Port, Smaller Notch, and Touch ID Under Display
At least one new iPhone released in 2019 will sport a USB-C port, smaller notch, and the return of Touch ID under the display, according to Jean Baptiste Su, Vice-President and Principal Analyst at consulting firm Atherton Research.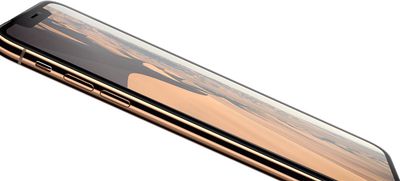 Su shared his prediction in a Forbes column about Apple lowering its revenue guidance for the first quarter of its 2019 fiscal year:
Although we believe that Apple will release a re-designed iPhone X in 2019—with a smaller notch, a fingerprint reader (Touch ID) under the display, and a USB-C port—it will still lack the extensibility (memory card), the battery life, the lightning-fast charging capability, and the camera quality of Android flagship smartphones while being more expensive.
This is the first Apple rumor we've ever heard from Su, and the Forbes contributor network has published its fair share of questionable content about Apple in recent years, so treat this rumor with a healthy dose of skepticism. Many analysts not named Ming-Chi Kuo simply make guesses — and not always educated ones.
Let's imagine these features prove to be true, though, and examine what that would mean for the next iPhone:
USB-C: For many years, critics believed Apple would never switch to USB-C on its iOS devices, and then it did exactly that with the 2018 iPad Pro. Will the iPhone follow suit this year? Notorious supply chain publication DigiTimes seems to think so, so Su is not alone in his prediction.

With many of the latest Macs equipped with USB-C or Thunderbolt 3 ports, which share the USB-C connector design, moving from Lightning to USB-C on the iPhone would create one primary I/O standard across not only Apple devices but hundreds of other electronics.

The switch from Lightning to USB-C would almost certainly cause an uproar among at least some Apple customers, who already had to replace their docks, cables, and other accessories when Apple switched from its 30-pin dock connector to Lightning back in 2012.

It's also worth considering that Apple has emphasized a wireless future, so one possibility is that the Lightning connector sticks around until there is no connector whatsoever.

Touch ID under the display: This one is hard to believe. Face ID is more secure than Touch ID and seems like Apple's authentication method of choice going forward, starting with the iPhone X and expanding to the iPhone XS, iPhone XS Max, and iPhone XR last year.

Kuo agrees, noting that Apple doesn't plan to return to Touch ID in any capacity with its 2019 iPhone lineup back in September.

Smaller notch: This one is certainly plausible. As the iPhone design continues to evolve, Apple will surely find ways to reduce the size of the notch, even if only by a fraction of a millimeter.
It's only January, so we're still early in the rumor cycle about 2019 iPhones. Over time, we should get a clearer picture about what to expect from more reputable sources like Kuo. To date, we've heard the next versions could feature a triple-lens rear camera, Face ID improvements, slightly thinner displays, and more.