Apple's 2019 iPhones Won't Adopt Fingerprint on Display Technology
Apple doesn't plan to return to fingerprint recognition for biometric authentication features with its 2019 iPhone lineup, according to a new note to investors shared this morning by Apple analyst Ming-Chi Kuo.
Kuo does not expect Apple's 2019 iPhones to support fingerprint on display technology, which would allow the iPhone to read a fingerprint through its display, doing away with the need for a physical Home button.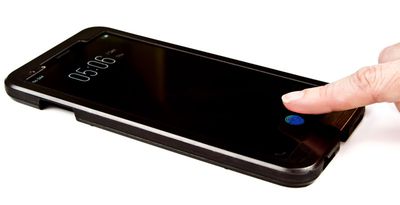 Instead, Apple is likely to continue to use the TrueDepth Camera System for Face ID as a biometric authentication method in the iPhone and other devices.
According to Kuo, Android manufacturers are keen to adopt fingerprint on display technology as a way to differentiate their devices from the iPhone.
All main Android brands currently treat FOD as the important function to differentiate themselves from iPhone (we expect 2H19 iPhone models will not support FOD). The reasons are as follows: (1) The user feedback on the iPhone is lower than expected. (2) The user feedback on the first FOD smartphone, Vivo's X21 FOD version, is higher than expected, and (3) FOD is the best fingerprint recognition solution for the full-screen design which is necessary for a high-end smartphone.
Kuo last year said that Android manufacturers were several years away from matching the iPhone's advanced Face ID technology. Companies like Samsung have adopted facial recognition, but not a secure 3D version like Apple has implemented, which is likely another reason Android manufacturers are focusing on fingerprint on display technology.


Over the course of the next year, Kuo expects an increasing number of Android manufacturers to adopt fingerprint on display functionality, encouraged by Vivo's implementation and advances in technology that will cut down on component pricing and experience.
By the first half of 2019, Kuo is counting on an uptick in fingerprint on display manufacturers, with "marked improvements for user experience" coming due to an upgrade to a larger aperture lens and ultrasonic fingerprint on display mass production.
Samsung, one of Apple's main competitors, is expected to adopt fingerprint on display technology for its Galaxy S10 during the first quarter of 2019.