Apple Music Connect to Shut Down, Suffering Same Fate as iTunes Ping
Apple today announced that its Apple Music Connect social platform for artists is in the process of shutting down, suffering the same fate as Ping, the company's previous social network for music removed from iTunes in October 2012.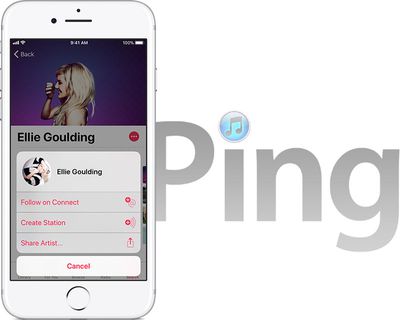 In a letter shared with artists via 9to5Mac, Apple said artists will no longer be able to post to Connect as of today, with the feature now removed from artist pages and the "For You" tab in Apple Music. Apple says all previously uploaded Connect content will remain searchable in Apple Music until May 24, 2019:
We've made a few changes to Apple Music that we'd like to tell you about.

We're always looking for ways to enhance our focus on artists and help them better connect to fans. So we've given Artist Pages an all-new design and added new, personalized Artist Radio.

Today we're streamlining music discovery by removing Connect posts from Artist Pages and For You. This means you'll no longer be able to post to Connect as of December 13, 2018, but all previously uploaded content will still be searchable until May 24, 2019. You can still create Artist Playlists with the latest version of Apple Music.

We're also excited about the latest beta of Apple Music for Artists, which gives you everything you need to understand your music's impact across Apple Music, as well as valuable audience insights. You can even upload your own photo to use on your Artist Page. Sign up for free today.

Thank you for helping us make Apple Music a vibrant community for artists and fans.
Connect had its own tab in Apple Music when the app first launched in 2015, but its presence was later reduced to a section in the "For You" tab.