iOS 12 Adoption Hits 70%, Compared to 59% for iOS 11 Last Year
70 percent of eligible iPhone, iPad, and iPod touch devices are running iOS 12, as measured by the App Store on December 3, 2018, according to the latest adoption figures shared by Apple on its App Store support page today.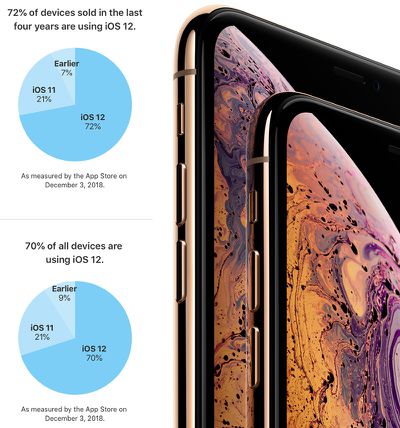 iOS 12 was installed on 60 percent of all eligible devices as of October 29, 2018, so adoption is up 10 percentage points in five weeks.
Apple also says 72 percent of devices sold in the last four years are running iOS 12. By comparison, 63 percent of devices introduced since September 2014 were running iOS 12 as of October 29, 2018, but those figures cannot be directly compared due to Apple's tweaked wording for this particular chart.
iOS 12 adoption is outpacing iOS 11, which was installed on 59 percent of eligible devices as of December 4, 2017, according to Apple. This shouldn't come as much of a surprise, as iOS 11 suffered from quite a few bugs over its lifespan, while Apple has focused on performance and stability in iOS 12.
Meanwhile, Apple says 21 percent of all devices remain on iOS 11 and nine percent are running an older iOS version.