iOS 12 is Now Installed on 63% of Active Devices From the Last Four Years
A month and a half after release, Apple's iOS 12 operating system is installed on 63 percent of active devices released over the course of the last four years, according to updated iOS 12 installation statistics shared on the
App Store support page
for developers.
Following the release of iOS 12, Apple has been sharing details on installation rates in a new way, providing information on both newer and older devices.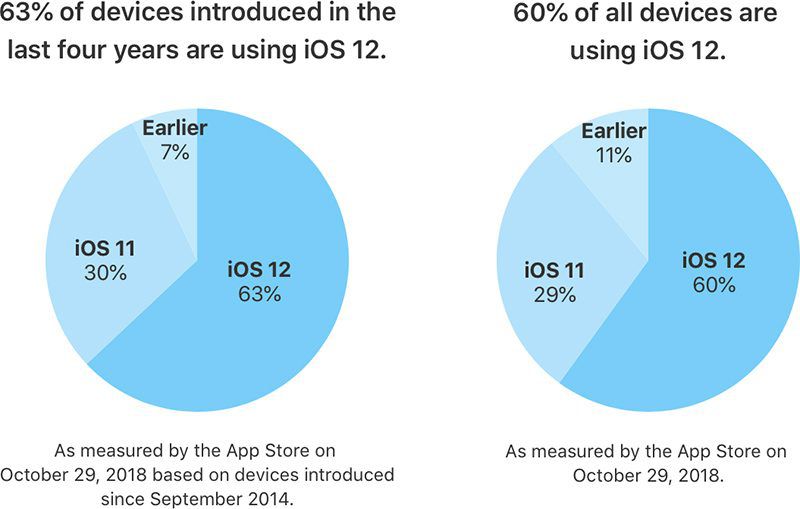 While 63 percent of devices released in the last four years are running iOS 12, 60 percent of all iOS devices out in the wild have the update installed.
Among all iOS devices, 29 percent continue to run iOS 11 while 11 percent run an earlier version of iOS. As for devices released within the last four years, 30 percent continue to run iOS 11 while 7 percent have an earlier version of iOS installed.
iOS 12 installation has grown 10 percentage points over the course of the last two and a half weeks, as the update was installed on 53 percent of devices released within the last four years back on October 10.
Between October 10 and October 29, the date Apple last collected installation numbers, the new iPhone XR was released, which likely explains the 10 percent jump in active devices using the new operating system. The iPhone XR, like the XS and XS Max, came pre-installed with iOS 12.
We'll probably see another significant jump in installation numbers the next time Apple provides an update as
the new iOS 12.1 update
is likely spurring people who haven't yet upgraded to iOS 12 to download the update.
iOS 12.1 introduces 70 new emoji characters, which are always a big draw, and it introduces support for Group FaceTime, allowing iOS users to video chat with up to 32 people at once.