Apple to Donate to Southern and Northern California Fire Relief Efforts
Apple plans to donate to fire relief efforts in Northern and Southern California, Apple CEO Tim Cook announced on Twitter this morning.
It continues to be fire season in California, and right now, the dry, windy weather has led to three major fires in the state. The Camp Fire, north of Sacramento, has burned upwards of 70,000 acres, with residents of Chico and Paradise being evacuated. Many homes have been destroyed in Paradise, California.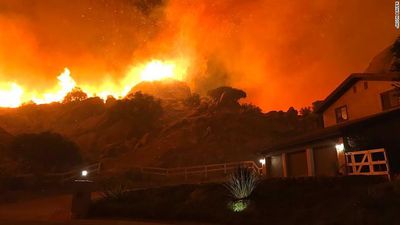 The Woolsey Fire in Southern California, via

CNN


In Southern California, the Hill Fire and Woolsey Fire are raging in Los Angeles and Ventura counties. The Woolsey Fire is approaching Malibu, a well-known area of Los Angeles, and residents are being evacuated. Upwards of 75,000 homes in Ventura and Los Angeles counties have already been evacuated and some structures have reportedly been destroyed.
Santa Ana winds that exacerbate the fires are expected to continue through Friday and into Saturday, with a second round of winds forecasted to start on Sunday and last through Tuesday.
Praying for the safety of our neighbors, loved ones and all those affected by the rapidly spreading fires in California. We're grateful to the firefighters and first responders working to keep everyone safe. Apple is donating to relief efforts for Northern & Southern California. — Tim Cook (@tim_cook) November 9, 2018
Apple often provides aid during serious environmental disasters.
Late last year
and
earlier this year
, Apple donated several million towards fire relief aid for other fires that impacted California.