Apple May Create Subscription Service Bundle That Includes Original TV Content, Apple Music and News
Apple may be planning to develop a single subscription service that would offer customers access to its original TV shows, Apple Music, and digital magazines, according to sources with knowledge of the company's plans that spoke to The Information.
Apple has ordered multiple television shows, ranging from comedies to dramas, but there has been no clear word on how these shows would be distributed.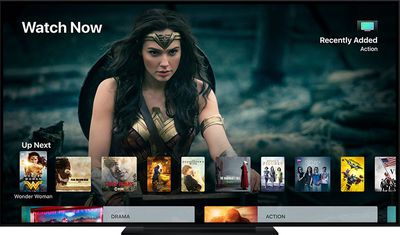 Its first original shows, "Planet of the Apps" and "Carpool Karaoke: The Series" debuted in Apple Music as a perk for Apple Music subscribers, but that would not likely be sustainable for the more than a dozen shows that are in development, so it makes sense that a wider TV offering is in the works.
According to The Information, Apple will begin by launching a digital news subscription service next year, which will combine the Apple News app with magazine subscription service Texture, which Apple purchased back in March. Bloomberg in April also said that Apple was working on such a service.
Texture offers subscribers unlimited access to more than 200 digital magazines for $9.99 per month, with titles that include People, Better Homes and Gardens, Time, Forbes, Condé Nast Traveler, Allure, Billboard, Town & Country, ELLE, National Geographic, Rolling Stone, Vogue, and more.
Apple eventually plans to bundle the digital news subscription service with both Apple Music and the video content that is in the works, but it is not known when Apple will provide the new subscription offering, nor what it will be priced at.
Apple is said to be planning to continue to offer each of the services on a standalone basis, suggesting a standalone TV service as well, and discussions are still underway about what its subscription services will look like, so a bundle might not ultimately come to fruition.
It isn't clear if Apple would roll out some of its original programming for free initially and then bundle it with the other services, the people said. The discussions at Apple are still ongoing about what the subscription service ultimately will look like and could change, they said.
Prior rumors have suggested that the first of Apple's television shows will launch sometime between March 2019 and the summer of 2019, which would mean a TV subscription service would likely come out around that time.
Apple has previously attempted to build a television subscription service that offers shows and movies from third-party content providers, but it was never able to establish the deals necessary to make that happen. With its own slate of original TV shows, though, Apple does not need to rely on deals with content producers to roll out a streaming TV service.