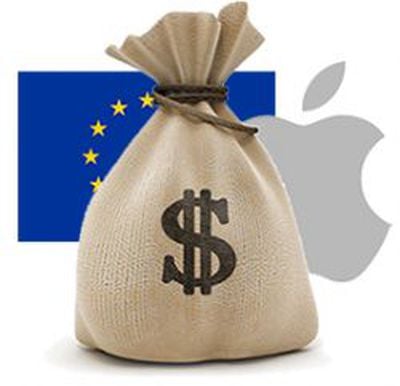 Just over two years after the European Commission ruled that Apple was receiving illegal state aid from Ireland -- where it had reportedly paid less than 2 percent in taxes compared to the country's headline 12.5 percent corporate tax rate -- Apple has now paid back the entire 13.1 billion euros ($15.3 billion) it owed in back taxes (via Reuters).
The European Commission confirmed the payment this week, and furthermore said that EU antitrust regulators now plan to drop all legal action against Ireland. The EU had originally taken Ireland to court for failing to recover the $15.3 billion in tax due from Apple.
The confirmation of the withdrawal of litigation came from an email sent by European Commission spokesman Ricardo Cardoso:

"In light of the full payment by Apple of the illegal State aid it had received from Ireland, Commissioner Vestager will be proposing to the College of Commissioners the withdrawal of this court action," Commission spokesman Ricardo Cardoso said in an email.
Although the EU gave its final ruling in August 2016 regarding Apple's tax loophole in Ireland, the regulatory body had first kicked off an investigation into Apple's tax arrangements back in 2014. The ruling eventually found that Apple was allowed to pay an effective corporate tax rate of 1 percent on its European profits in 2003, down to 0.005 percent in 2014. Specifically in 2014, Apple paid 0.005 percent tax on EU profits, which means that "For every million euros in profits, it (Apple) paid just €500 in taxes," said European Competition Commissioner Margrethe Vestager at the time.
Apple and CEO Tim Cook were adamant that the ruling was based on "fundamental errors" and Cook referred to the tax avoidance accusations as "total political crap." He elaborated, stating that Apple pays all of the taxes it owes based on the laws of each country in which it operates. Likewise, the Irish government said it did not give favorable tax treatment to Apple and added that it "does not do deals with taxpayers."
Apple and Ireland eventually moved to appeal the ruling, but as things escalated the European Commission decided to open litigation against Ireland in October 2017 for its failure to procure Apple's back taxes. Eventually, Apple began paying the back taxes it owed around March 2018, and in a report from earlier in the year sources stated that payments were expected to finish around September.
Note: Due to the political nature of the discussion regarding this topic, the discussion thread is located in our Politics, Religion, Social Issues forum. All forum members and site visitors are welcome to read and follow the thread, but posting is limited to forum members with at least 100 posts.