Tim Cook Calls Apple's Irish Tax Avoidance Accusations 'Total Political Crap'
Apple CEO Tim Cook today spoke with Paschal Sheehy, the host of Irish radio show Morning Ireland, providing more commentary on the situation with the European Commission and its decision to make Apple pay 13 billion euros in back taxes from a period between 2003 and 2014.
Cook's stance falls in line with his open letter on the situation from earlier in the week, first providing backstory about Apple's history in Ireland and then remaining hopeful that the ruling will ultimately be overturned. His wording -- calling the ruling "political crap" -- also echoes an interview from late last year surrounding a similar tax evasion topic.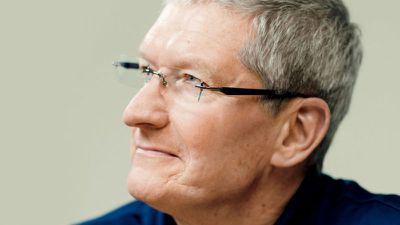 The radio show marks the first interview Cook has made since the European Commission's ruling earlier in the week. He calls the decision "wrongheaded," and specifically refers to the 0.005 percent tax rate claim as a "false number." In its ruling, the EC stated that Apple paid only a 0.005 percent tax on its European profits, but Cook affirmed that Apple is "subject to the statutory rate in Ireland of 12.5 percent," and that the company "paid $400m in taxes in 2014."
When asked directly how he feels when Apple is painted as gaining an "illegal" advantage over tax benefits, Cook mentioned his frustrations over the ruling, and compared it to the company's reaction to the FBI drama earlier in the year, saying Apple never chooses the "easy thing" over the "right thing." In this vein, responding to the question of whether Apple has anything to apologize for or if it did anything wrong, Cook said succinctly "no, we haven't done anything wrong."

"It's maddening, it's disappointing. It's clear that this comes from a political place and has no basis in fact or law. Unfortunately it's one of those things we have to work through. When you're accused of doing something that is so foreign to your values, it brings out an outrage in you and that's how we feel. Apple has always been about doing the right thing, never the easy thing.
Most of the rest of the interview emphasizes the "37-year-old marriage" between Apple and Ireland, a union that's "great for the community" of the country as it is for Apple and the people it employs there. Cook said that Apple will continue to focus on building a presence in the country, which includes being able to finally construct a huge data center in Galway County over the next 10-15 years.
Ultimately, Cook has "faith in humanity" and "faith in what is just and right will occur," retaining the positive outlook from his open letter that the ruling will be overturned. Regarding Apple's plan to appeal, alongside the Irish government, Cook said that "the decision is wrong, and it's not based on law or facts, it's based on politics. And I think it's very important that we stand up and say that very loudly."
Note: Due to the political nature of the discussion regarding this topic, the discussion thread is located in our Politics, Religion, Social Issues forum. All forum members and site visitors are welcome to read and follow the thread, but posting is limited to forum members with at least 100 posts.