E.U. to Take Ireland to Court For Failing to Claim Apple Tax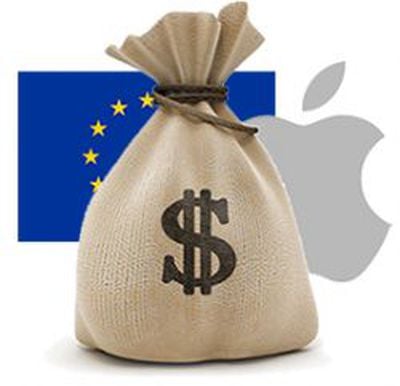 The European Commission said on Wednesday it will take Ireland to court for its failure to recover up to 13 billion euros ($15.3 billion) of tax due from Apple (via Reuters). Apple was ordered to pay the unpaid taxes in August 2016 after the Commission ruled that the company had received illegal state aid.
The Commission argued that Irish revenue commissioners gave Apple unfair advantage between 1991 and 2007 by allowing the company to move income from the European market through two "non-resident" head office subsidiaries based in Ireland. Ireland vowed to appeal the ruling.

"More than one year after the Commission adopted this decision, Ireland has still not recovered the money," EU Competition Commissioner Margrethe Vestager said, adding that Dublin had not even sought a portion of the sum.

"We of course understand that recovery in certain cases may be more complex than in others, and we are always ready to assist. But member states need to make sufficient progress to restore competition," she added.

The Commission said the deadline for Ireland to implement its decision had been Jan. 3 this year and that, until the aid was recovered, the company continued to benefit from an illegal advantage.
Ireland's finance ministry said it had never accepted the Commission's analysis in the Apple state aid decision, but would collect the money due pending Dublin's own appeal of the ruling.
"It is extremely regrettable that the Commission has taken this action, especially in relation to a case with such a large scale recovery amount," the ministry said in a statement.
Apple claimed earlier this year that the Commission made "fundamental errors" when it ruled that the company owed Ireland the unpaid taxes plus interest, and argued that the profits to those activities were attributable to the United States.
Apple CEO Tim Cook has called the EC's ruling "total political crap" and described the lower end 0.005 percent tax rate Apple is accused of paying as a "false number". The Apple CEO has previously said he believes the decision will be reversed.
In addition, Vestager announced a demand for Amazon to pay around 250 million euros in taxes to Luxembourg. Amazon denied it owed any back tax, and claimed it had not received any "special treatment" from Luxembourg.
"We will study the Commission's ruling and consider our legal options, including an appeal," an Amazon spokesperson said.
Note: Due to the political nature of the discussion regarding this topic, the discussion thread is located in our Politics, Religion, Social Issues forum. All forum members and site visitors are welcome to read and follow the thread, but posting is limited to forum members with at least 100 posts.